I finally got around to checking out my engine bay and as expected the dealer broke a bunch of clips, most of them the fir tree clips. A lot of them.
I did some digging and found HellemannTyton makes all the clips and bundling and securing hardware. I included a couple of them as examples.
They have a
catalog
with all the part numbers but they're kind of hard to dissect.
This piece, I'm pretty sure is on page 105, but which one of the gray ones it is I don't know. Maybe it's
this
one? Even so, I'm still trying to find where you can buy it in a low quantity.
A trickier one is this piece that secures a connector to the back of the intake manifold.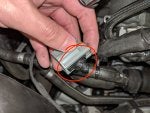 It should be somewhere on this page
188 or 189

but on the website the closes one I could find was
this
piece which is different. It looks similar to some other clips (like the one below), but not the specific one on the back of the intake manifold. Not sure they're interchangeable.
Will update as I find out more. If anyone else has pointers let me know, I would like to stock up on these for the inevitable engine bay upgrades.
Here's all the fir tree products they make.
And the US page. Don't know if it's any different.