Discussion Starter
•
#1
•
I have done WeatherTech products from my previous and current vehicles.
Used to live in Portland and Minnesota, force of habit that regular carpet would not work for me.
I know there are other brands out there, I just stick with what I know/like Don'tChaKnow.
I just want to share some pics to y'all:
FloorLiners:
You need to take off the OE floor mats at the front, It was challenging to pop it out.
The ones on the rear, the OE floor mats can stay. I still took mine off.
TrunkLiner/w bumper protector:
View attachment 313182
CarCoaster:
I considered the UK version conversion but since I use myh cup holder as my mobile holder, it would beat the purpose of closing it. I just want to protect if from sweaty drinks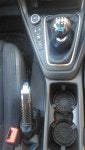 TechShade Full vehicle kit: