Hey there!
Creating a thread to officially commit myself on this new build opportunity. I was previously an ST owner, just recently sold that beast of a car (literally) and picked up an RS. I'm not sure what I'm going to do with the RS yet, it's pretty much what I built the ST to be in terms of a road monster. But, this thread will maybe help me get started. I'm a Mountune fan, I think they do great things for the Focus platform and quality of their products are hard to beat. I went all the way through their big turbo/MRX setup on my ST. I will miss it, and after some dialed in E30 tuning it was actually faster than the RS by a bit(~400hp/400tq). I'll see if I can change that, but honestly most of that power wasn't usable realistically.
I'm really happy with the purchase, I think I got a good deal on it. The RS is much more buttoned up and refined than the ST. A lot of the work that went into the ST comes pretty much stock on the RS. So I'm very happy with the starting point. I may look into minor tune adjustments (torque seems lacking). It does seem to be a little flat in response but it's certainly sufficient for daily driving!
Modifications
Mountune shift knob (carry over from my ST)
Mountune Uprated BPV
Mountune Full Intake
Mountune Intercooler
Mountune V2
Air Filter
Mountune Sport Springs w/ Ford Front Revised Shocks
Mountune Turbosmart Actuator
Mountune V2X Exhaust
Mountune Quick Shift, Bushings, and Shift Boot
Ford Performance Drift Stick
Redline Tuning Hood Struts
20% Ceramic Window Tint
MUTEKI SR35 Lug/Lock
Cobb Accessport
NGK Spark Plugs
Raceseng Tow Hook w/ GoPro Mount
Raceseng Reverse Lockout
Hawk DTC-30 Pads
Goodridge Phantom Stainless Steel Brake Lines
Motul 660 Brake Fluid
Tune+ Bluetooth E85 Ethanol Sensor + App
Ventus Veloce Carbon Fiber Hood
Day I took delivery.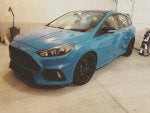 My Old ST Build Thread (warning, it's long!):
Tarrant64's '14 PB ST2 Build Thread (check it out!)
Unfortunately I seem to be going backwards on this build already! Picked up a rock chip on the way home from delivery (I got it filled so it doesn't spread later).