Discussion Starter
·
#1
·
Lots of discussion here about seat height, but for me the issue is the rake of the bottom cushion (talking RS2 here). I prefer to have my legs more or less straight out in front of me, but lowering the seat merely lowers your butt, without dropping the front of the cushion. At that point, my short legs (5'7") can't reach over the front edge without uncomfortable pressure on the back of my knees or moving the seat very close. On the other hand, raising the seat to reduce the rake makes me feel like I'm sitting in a church pew or something, with my legs coming straight down on the pedals. So I've been making do with an intermediate setting, and it's OK. But yesterday I decided to look underneath to see if there was something I alter, that was easier/cheaper than the cutting & welding or buying an expensive new bracket to lower the entire seat.
My first thought was to fab some new supports for the front to tilt the seat more towards the front. But that looked like a PITA, and perhaps beyond my metal working skills.
So I decided to try the simplest thing first, and tilt the seat by shimming the rear of the seat bracket. For tall people who find the seat too high even at the lowest setting, this would be anathema, but I don't have this problem. The bolts attaching the seat have about 0.6" longer thread length than needed. So you can shim up to that point while maintaining full thread engagement. Also, the seat bracket only contacts the frame at the 4 mounting points anyways, so there's no loss of rigidity by shimming.
Removing the back two bolts and slightly loosening the front allows plenty of play to fit a stack of washers under the brackets. Since the two back brackets have different lengths, I used 0.54" on the longer inner bracket and one less washer (0.45" total) on the shorter outside bracket to keep the seat level.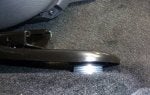 I'm pleasantly surprised at how much difference this makes. Much more comfortable now, allowing a lower seating and straighter leg position. Time and cost: 15min, $2.50.