Discussion Starter
·
#1
·
Hey all!
I was lucky enough to get to go to the RS Adrenaline Academy on September 9/10.
I videoed all opportunities we had to drive cars (minus the couple of additional minutes when they asked us to help moving cars from one place to another). I've posted all the videos online, and I'd be happy to do a write-up if you guys care.
I had a blast, and I'd highly recommend doing it if you can. I appreciate that not everyone get that luxury, which is part of the reason I'm posting this -- it may help you decide you really want to. Or if you can't make it, maybe you can live vicariously through these videos.
A word of caution -- these videos are unedited, they really do highlight all the time spent inside a car. You'll notice on the right a little indicator showing how fast the car is moving, you'll quickly learn what the down times are if you are impatient.
Hope this is useful to someone, let me know if you have any questions!
Sauce
https://www.youtube.com/playlist?list=PLD7qtLDO_bq99gldwtWYi0CqLVIogd-Si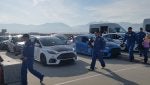 View attachment 313308