Discussion Starter
•
#1
•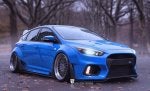 ​
The new 2016 Ford Focus RS is yet to hit the market, but already there is a great deal of enthusiasm about this car in every forum and chat room. What's not to love about a 350 horsepower hot hatchback with a drift mode? In fact, the only way it could be any better is if was a bit wider.
And that is not taken care thanks to this fantastic rendering by Prisk Design. This, to all intents and purposes, is what the ultimate tuned 2016 Ford Focus RS should look like. It has got a full wide body treatment with super cool fender extensions, it's slammed on a set of fat wheels, and it's got a new aero kit as well.
We do realize none of this stuff is practical in the real world, but there is something very desirable about the way this Ford Focus RS wide body looks that is more than make up for the headache that using a wide and low car will inevitably results in.
Every part of this virtual 2016 Ford Focus RS wide body is an inspiration. Even if nobody's going to make the full package, they should at least come up with a similar aero kit. This thing is just too good to be left an imagination.
Rendering by Rain Prisk Designs
Rendering: 2016 Ford Focus RS Wide Body - Motorward