Proper 3000/6000k Foglights and/or Cover Retention Mod (prevents covers falling/vibrating off)

Bought these
https://www.amazon.com/gp/product/B01NAJFKNJ/ref=oh_aui_detailpage_o01_s00?ie=UTF8&psc=1
. As many know already our USDM RS cycles the fog lights each High Beam use making these not function as intended. Fixed.
Items Needed:
3000/6000k LED bulbs
Hardware to edit BdyModule (MX bluetooth, ELM327 w MS/HScan switch)
Laptop w/Forscan (turn off sleep/hibernation)
Updated calibration files (be prepared to download this)
Hair bands or something with similar length/size/water-resistance (
https://www.amazon.com/Scunci-Effortless-Beauty-No-damage-Elastics/dp/B00J6TK75Y/ref=sr_1_4_a_it?ie=UTF8&qid=1497534116&sr=8-4&keywords=hair+bands
Pliers
Trim Tools
O-ring kit (optional, but these can be used just as well as the hairbands) if you get a multipack at HF or PA)
Battery Charger (if a dead battery is possible)
Ford Hood Insulation Retainer Clips (pepboys/walmart)
https://goo.gl/Zo9ckJ
https://goo.gl/f5w6Vd
(matches the plastic really well and shields from water entry to protect the bands + I like the oversize look, better options are prob available so be creative)
Difficulty - (Easy)
Instructions for Cover falloff prevention.
1. Remove FL covers with trim tool or just grab and pull off.
2. Install Fog lights bulbs (make sure the bulb housing compresses the gasket when installed)
3. Pop Screen off the bottom corner peg with pliers.
4. Loop hairbands 2 per side under the bottom screen peg nearest to the fog adjustment screw.
5. Thread Hairbands through the fog adjustment screw hole, connecting each loop to the hook of the Hood Insulation Retainer Clip, then slide up the added o-ring to lock the bands or main o-rings in place. Twist to tighten. (more twist should make it tighter up against the cover and bumper)
6. Carefully make sure each tab from the cover is in the correct slot, then push in firmly back in towards car until they are all firmly locked in place and all edges are flush against the paint.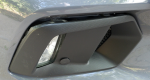 Instructions for EU Always ON "Bambi mode on the Focus RS" and /or 3000/6000k Foglights with highbeams)
Difficulty - (Easy to Difficult depends on PC skills)
1. Make sure you have all battery/connections in proper working order. DON'T BRICK YOUR BdyM.
2. Launch Forscan, connect and head to the (main) BdyM
(Download latest calibration files if/when prompted, place into Documents/Calibration as told -- create the directory if it doesn't exist)
3. Once connected -- filter by: Fog or light or just scroll down a little bit, it's easy to find.
4. Correctly set the foglight setting ([3rd down the list],
03 is the default value just in case you want to change it back and forgot
).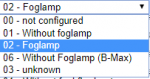 5. Save out changes = The foglight switch becomes independent from dip switch. e.g. while switching to highbeams and keeping foglights (BAMBI) or using lowbeams and switching the color of the foglight bulbs while under lowbeam mode or other (non Auto) lighting effects can be achieved.
6. Other headlight lighting effects can be achieved depending on switch position (e.g. not AUTO).