For some of us who is unfortunate enough to live in California, we need to comply with the California Air Resource Board (better known as C.A.R.B.).
So far I only found 3 intake that are C.A.R.B. Legal:
Mishimoto Performance Air Intake
Performance Air Intake, fits Ford Focus RS 2016–2018
This is an aluminum intake.
Roush Cold Air Intake Kit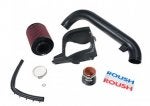 2016-2018 Focus RS, 2013-2018 Focus ST Cold Air Intake Kit
This one is "OEM" look.
This one is not really just an intake but a "kit". It would be very remiss of me if i don't mention it since it does get issued a C.A.R.B. sticker for the intake:
Mountune Focus RS M380 Performance Upgrade
https://www.mountuneusa.com/mountune-Focus-RS-M380-Performance-Upgrade-p/2536-m380-blk.htm
COBB TUNING Ford RedlineCarbon Fiber Intake System for the Focus RS:
Maintaining and improving the best qualities of the factory intake, then going even one step further in style, design, and performance. The COBB Ford Focus ST/RS Carbon Fiber Intake is a bold, enthusiast driven addition to your vehicle that offers the custom modification experience with OEM...

www.cobbtuning.com
If you use or know any other C.A.R.B. legal intake please share.