Discussion Starter
•
#1
•
Karma are you listening?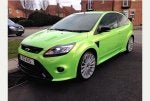 ​
By Burton Mail, April 17, 2015
A VICTIM of crime whose £20,000 car was stolen from his driveway has said he has 'mixed emotions' after police found it had been sold for parts.
Rikki Poyser, of Suffolk Way, Church Gresley, inherited the Ford Focus RS from his late father, who died of a brain tumor, and said the vehicle was 'his pride and joy'.
Police have now found the registration plate and parts of the car being sold separately in Birmingham.
He said: "It is still a bit of mixed emotions. We are so close, yet so far.
"The car is in bits, so I can never have it back and never have it running. The police just called me and told me my number plates and some body panels have been found in a location in Birmingham."
Mr Poyser, 26, discovered his car had been stolen from his driveway on Wednesday, March 11.
An online plea for help to find the vehicle was shared by more than 2,000 people on Facebook, and seen by around 160,000 people.
He said: "There are only about 2,000 of those cars made. They smashed the window to get into the car and, as they were reversing it, scraped the passenger side door on the wall of my home so it will have noticeable damage."
The car was given to him by his father, Dean, who died almost two years ago. A spokesman for Derbyshire Police said: "We can confirm that the items have been found at an address in Birmingham and have been seized by West Midlands Police. We have reopened the investigation."
Anyone with information is asked to phone Derbyshire Police on 101 quoting crime number 9941/15.
Son's heartache after late father's Ford Focus RS stolen from outside his house found in bits | Burton Mail