Discussion Starter
·
#1
·
I have many requests so here are my instructions.
1. Remove the cover plate behind the door handle
2. Remove the Torx (t-25) screw.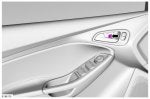 3. Use a flat blade interior tool or screwdriver to pry the assemble loose. Pry just enough to get it loose and use your fingers to remove the assembly.
Next remove the cable from the door handle light and the cable from the door switch, Now the assemble will be very loose and you can remove the door handle light and clear reflector assembly.
The above takes about 5 to 7 depending on tools used. Now you have the door handle light out.
This is the first step in removing the door panel.
DOOR PANEL REMOVAL
1. Remove the door handle assembly. (see above)
2. Remove the cover from the small speaker in the door, It just snaps off.
3. Remove the screw behind the upper door handle plate.
4. Remove the red reflector on the door, Snaps off with your fingers or small flat blade screwdriver. Remove the Torx screw behind the reflector.
5. Next remove the trim piece from the arm rest by starting at the forward edge and pulling. It will slide forward after you get the forward edge loose.
6. Once the trim piece is removed, lift up the panel with the door controls and unplug the connector and set aside.
7. Remove to 2 screws from behind the arm rest (t-25).
8. Now the door panel is read to be removed. Starting from the top pry the door panel loose with your fingers. The door panel is held on with snaps. It will come lose with a little pull.
9. Remove this connector so the door panel will come completely off,. You will be able to slide the door handle assembly through the opening without disconnecting the door release cable.
10. Now you will see the connector to the door cubby light.
11. Remove the connector and the door cubby light holder. Pry the prongs loose on each side of the light holder so you can remove the light holder from the clear light tube.
If the light tube come loose don't worry it just snaps back it place.
12. Replace the light holders (door cubby and door handle) with the new ones and reassembly. Make sure you have the cables pulled through their opening before you snap the door panel back in place.
I will upload more pictures later and add them to this post.