You may have read about this in the
Production numbers MY16/MY17?
thread and wondered how you could get your hands on one of these.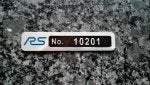 ​
The production plaque is engraved aluminum with self adhesive goes for 35 USD, this includes shipping and handling to the US.
If you want a second it is only 15USD more - for a total 50USD. (you can choose different colors on each plaque)
Suggestion is the RS logo stays light blue and then the background you can select your car color or any other color that you prefer. I went with RS logo light blue and background of light gray.
PayPal and contact address is:
[email protected]
Current batch being made for delivery at the end of February (data /order collection until 6th of February).
Each month in general he collects data until the beginning of a month and delivery is at the end of the same month, so in March again data collection until Monday the 6th with delivery at the end of the month.
First, all you need is a VIN to find the car in the database, which are basically barcode readings at the end of the production lines and - only for Focus ST and Fiesta ST - a macro that is connecting this data with export-import data of the various countries and has done this for German websites for more than 6 years.
He has a lot of connections to the Ford plants here in Europe (but also in Michigan, Cuautitlan Stamping and Assembly Plant etc.) ... the production of the Focus Mk3 was increased the last month, but still not much more than 25,000 will leave the Ford plant in Saarlouis until this summer when production ends.
For those interested, I hope that this thread helps.
PRODUCTION NUMBER MASTER LIST:
(Plaque#, Username)
00926
@UKXPAT
01701
@ProfessorFate
01806
@mullick
02129
@EcoBoostin
02206
@Shoey
02723
@PiSigma
03077
@Zach99
03899
@trejr
04031
@GrayRS
04380
@Hoonigan
05668
@neox.286
05832
@seniorgeek
07568
@IcoHolic
10205
@HappyTimes
105569
@markboris
12615
@GhostRS13
16007
@Bluebyutoo
18108
@jjameson