Discussion Starter
·
#1
·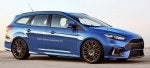 ​
by Mihnea Radu, 4th February 2015
The Focus RS has always been synonymous with extreme performance for the road and track day event. However, with the 2016 model, Ford really have outdone themselves. By adding all-wheel drive into a somewhat affordable mix, they've ensured their compact turbo car can even outrun a Porsche Cayman.
It's hard to pinpoint which will be the Focus RS' main rivals, but they number the ever-popular Subaru WRX STI and all sorts of German AWD rockets. And it's not exactly like VW or Audi have been taking things lightly. The new Golf R packs 300 hp and can use launch control to reach 100 km/h in 4.9 seconds. Audi's S3 is even faster, but the RS3 takes the cake with 367 hp and 4.3 seconds to 100 km/h.
During the 2014 Los Angeles Auto Show, VW showed there was further room for innovation in the segment by revealing the Golf R Variant or SportsWagen. It's got the same 300 hp turbo engine, AWD and twin-clutch gearbox, but adds a family-friendly 600 liter boot.
Ford could easily do the same with the Focus, by taking all he go-fast bits of the RS and stuffing them into the Focus Wagon. The platform is the same and the only differences are behind the rear wheels, so no major engineering work needs to be done. These renderings by X-Tomi show what that would look like, a family car that belongs on the circuit or in the hands of a rally driver.
But I think Ford hasn't got any plans for a super-wagon. The RS models always arrive within the last two years of the product life cycle, so by the time they finish testing this, it will be out of production. By contrast, the Golf Variant is only about 1.5 years old.
Ford Focus RS Wagon Could Take on the Golf R Variant - autoevolution