Discussion Starter
•
#1
•
The 2016-2018 Focus RS is likely to be the last one built. Good thing it was mostly brilliant...
By
Tony Middlehurst
/ Monday, May 11, 2020
Key considerations
Available for £21,000
2.3 litre turbo four-cylinder
Incredible point and squirt weapon
Not the softest ride in town
Check the free engine repair work is done
Mountune variants are generally excellent
OVERVIEW
The story of the Focus RS begins not with the Focus but with the Escort. In RS Cosworth guise the Escort set a new benchmark for family hatch performance when it was released in 1992. Pumping 224hp through all four wheels from its Garrett-turboed 2.0 four, it did the 0-60 in the same time as a Ferrari 348 and ran on to nearly 150mph, which was a lot for any car back then, let alone an Escort.
Egged on by that evocative RS badge, Ford was more or less contractually obliged to build a hot version of its new-for-1998 Focus. It would be another four years before the Focus RS came along, however, and at first sight fans were wondering if it had been worth the wait. The 2002 RS's power was actually lower than the Escort Cossie's at 212hp, and in time-honoured Ford fashion it came in any colour you liked as long as it was blue.
More importantly, its Quaife-diffed chassis was superior to the Escort's and despite the power shortfall (and its lack of all-wheel drive) it still did the 0-60 in under six seconds. It was an exciting but not scary ride, although torque steer was an issue on bumpy roads. In a one-year run just 4,501 Mk1 RSs were made, a mere drop in the massive Ford bucket. You'll do well to find one under £10,000 now. Most are nearer £20,000, and you can add another £10k to that for a low-miler garage queen.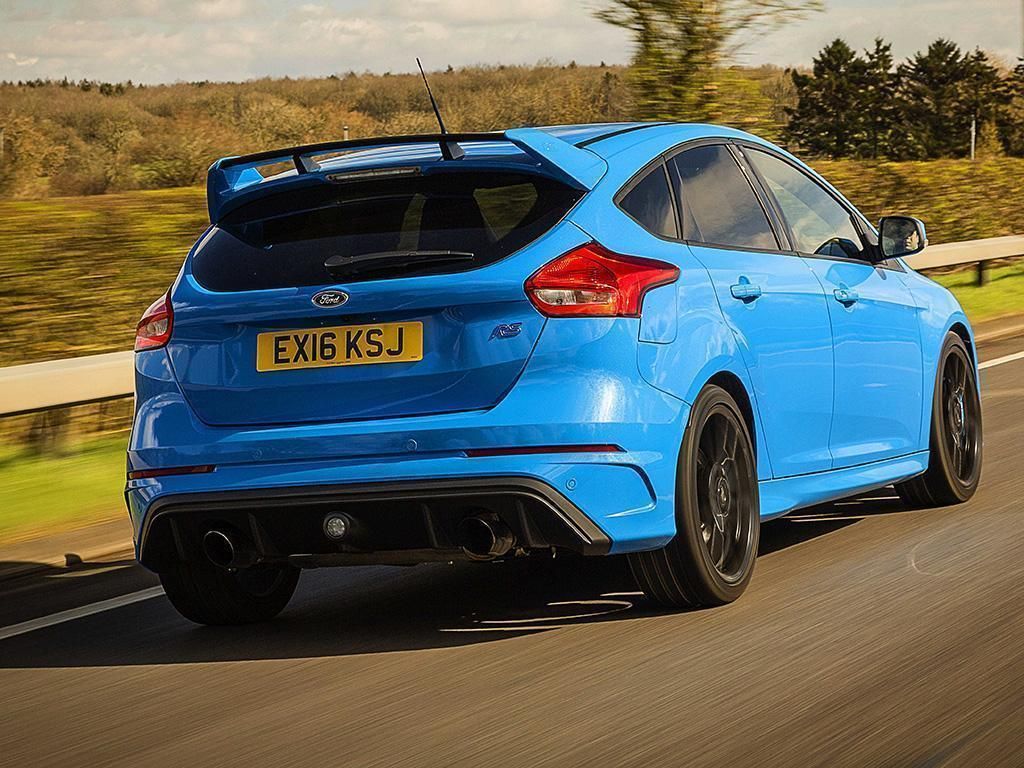 The Mk2 Focus RS of 2009 more than addressed any power complaints levelled at the Mk1. Its Volvo-engineered 2.5-litre inline five was blown to 301hp by a big BorgWarner K16 turbo. The continued limitations of front-wheel drive (even assisted by the new RevoKnuckle suspension) meant that the Mk2 could only match and not beat the Mk1's 5.9sec 0-60 time, but by way of compensation its in-your-face body aero did allow it to pile another 20mph onto the top end. With the sort of paint schemes that would make a parrot feel queasy, you really couldn't miss a Mk 2 RS on the road. British Ford fans loved it. Of the 11,000 made, 4,000 were sold here.
Revealed at the 2015 Geneva Show and put on sale in 2016, the five-door Mk3 Focus RS was more stylistically mature than the 2. Some criticised it for that, or for having too many doors or for not having enough air vents or power bulges. The interior wasn't that special either, being not so massively different from the ST's, but the car made a lot of good barking and woofing noises, and the performance numbers were impressive.
Promoted as a fast street car that would work just as well on a trackday, the Mk3 had a 2.3 EcoBoost four that put out getting on for 350hp and up to 347lb ft of overboost torque through the long-awaited return of the four-wheel drive system. Ford's new torque-vectoring AWD setup could send up to 70 percent of the torque to the back axle, and then up to 100 percent of that power to an individual rear wheel. The system included a 4.7sec 0-62mph-enabling Launch Control and a Drift Mode that provided kindergarten powersliding.
SPECIFICATION | FORD FOCUS RS MK 3
Engine:
2,261cc, inline four, 16v
Transmission:
6-speed manual, all-wheel drive
Power (hp):
[email protected]
,000rpm
Torque (lb ft):
[email protected]
,000-4,500rpm (346 on transient overboost)
0-62mph:
4.7 secs
Top speed:
165mph
Weight:
1,600kg
MPG:
36.7 (official combined)
CO2:
175g/km
Wheels:
8x19 RS 20-spoke (forged 10-spoke optional)
Tyres:
235/35 Michelin Pilot Super Sport (Sport Cup 2 optional)
On sale:
2006 - 2013
Price new:
£95,000
Price now:
£21,000-£62,000
Note for reference: car weight and power data is hard to pin down with absolute certainty. For consistency, we use the same source for all our guides. We hope the data we use is right more often than it's wrong. Our advice is to treat it as relative rather than definitive.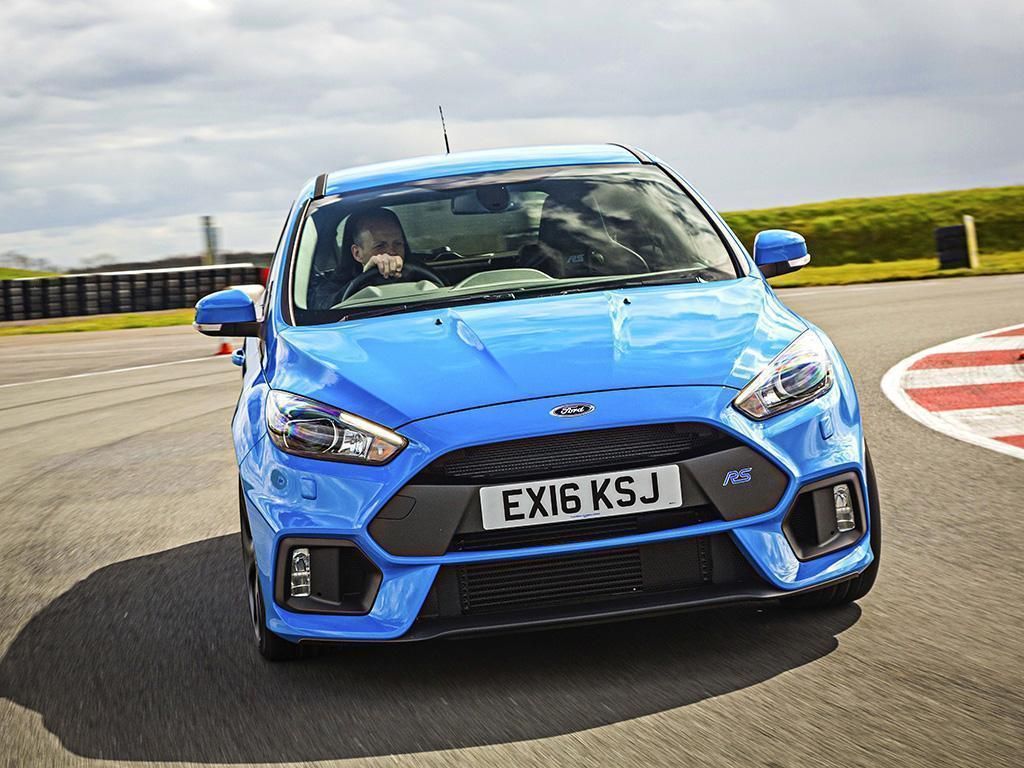 ENGINE & GEARBOX
The 2.3 EcoBoost engine is a mighty unit. With a Honeywell twin-scroll turbocharger, twin independent variable cam timing, a fat wodge of torque from 2,000-4,500rpm and more than 345lb ft for up to 15 seconds at a time on transient overboost, there won't be that many occasions when you'll be gnawing your knuckles in frustration. The torque curve drop-off above 4,500rpm is pretty gentle and the power is still flowing in a desirably positive manner right through to 6,000rpm.
Unfortunately the all-aluminium Cosworth-head motor did go through a period of misfortune. Sudden coolant loss resulting from a failed head gasket and/or cracks in the block between cylinders one and two has ruined more than one owner's day. The symptoms leading up to it are rough starting, white exhaust smoke and an odd popping noise that for a change isn't coming from your knees. This head problem could affect cars with as little as 3,000 miles on their clocks.
Although many of the engines suffering from this were fixed under warranty, with Ford offering free repairs for any cars built between August 2015 and July 2017, there are stories of owners being asked to stump up for the cost of a new clutch at the same time as this was deemed to be a wear and tear item outside the remit of the engine warranty work.
Some owners of low-mileage cars refused, insisting that the original clutch should not need replacing at such an early stage. At least one owner going down that route found that his original clutch began to slip not long after the engine was replaced. Others stuck with the original clutch, choosing to protect it by not using the launch control facility that was one of the car's headline features.
Anyway, if you're looking at a pre-July 2017 car you will need to see some evidence that the recall work has been done. FSA17832 is a good reference number to see on the paperwork. In a healthy state, this engine is known for loosening up nicely as the miles accumulate.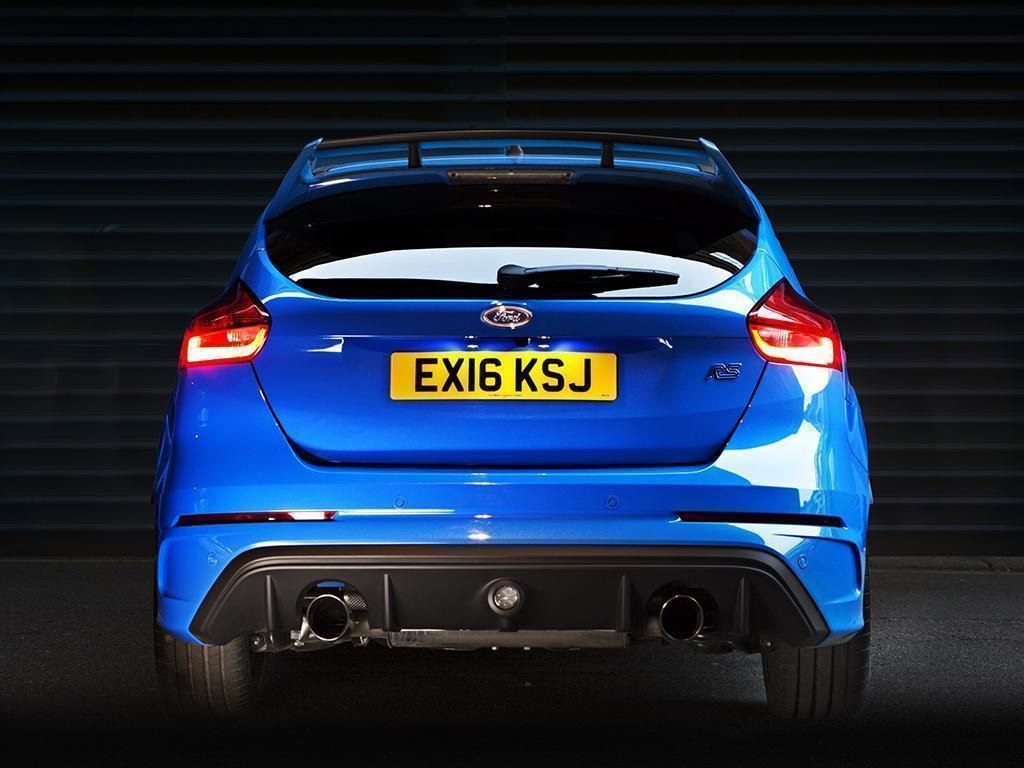 Ford's Performance All Wheel Drive system varied the front-to-rear torque distribution to suit the current driving situation, monitoring inputs from vehicle sensors 100 times per second and sending a maximum of 70 per cent of the drive torque to the rear axle. Dynamic Torque Vectoring used electronically-controlled clutch packs on the rear axle to send up to 100 per cent of the available torque to either rear wheel, switching drive from one side to the other in as little as 0.06sec. Up at the sharp end, Torque Vectoring Control (TVC) automatically applied small amounts of brake force to limit wheelspin.
The action of the gearstick (which has a Drive Mode button next to it) is slick and precise, although clutch pedals can squeak and stay on the floor. There are mods for this. Official combined fuel consumption is 36.7mpg, which is 3mpg thirstier than a Golf R. In the real world, driving with a degree of vim, an RS will return average figures in the mid to high 20s, or as little as 11mpg if you're tracking it. Gentle use will lift the mpg to around 33mpg.
Ford's relationship with Mountune has traditionally delivered great results and the RS Mountune FPM375 offered in mid-2017 was no exception. £899 would reflash the ECU and add a new high performance air filter, crossover duct and uprated recirc (i.e. dump) valve for a 24hp/30lb ft boost. The 0-60 time dropped by 0.2sec to 4.5sec, but perhaps the best features were the sharper low-rpm response and, because we're all kids at heart, the enhanced whooshing and gulping noises. An axle-back exhaust was available for an extra £1,050.
The hardest part about taking up the FPM375 option was having to join the queue for dealer fitment dates. As usual with Mountune cars, the 3yr/60,000 mile Ford warranty was unaffected. Mountune still sells a range of parts for the car including an M400R power upgrade kit, although last time we looked that was sold out.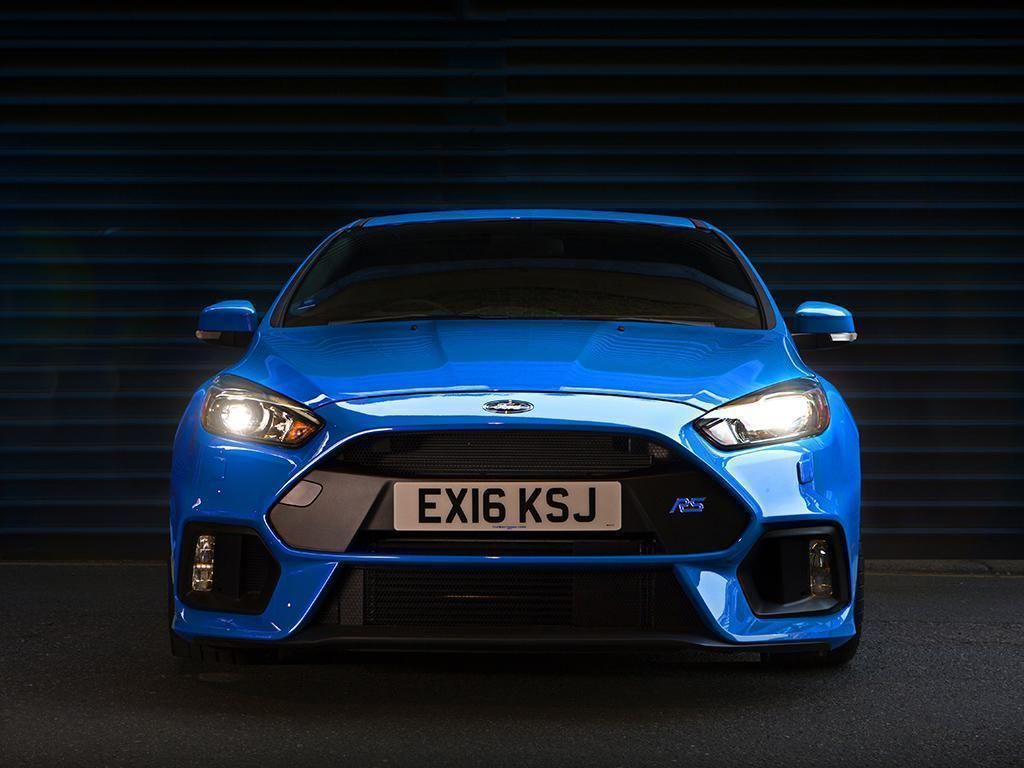 CHASSIS
One of Ford's big goals with the Mk 3 was to give it handling that was as close to neutral bordering on RWD as possible. They did that by configuring the AWD system to give the engine latitude to break the rear wheels loose in Drift mode, which was one of four, the others being Sport, Track and Normal. Even Normal is quite stiff. Sport leaves the dampers and the stability/traction controls at a normal setting but gives full range to the engine and sharpens up the steering and the exhaust note.
Track mode stiffens the two-stage adaptive dampers to reduce body roll and add 'pointiness'. There's an apparently bottomless supply of that in an RS. Irrespective of road or weather quality, you can absolutely rely on the front end to hang on like a sheep's clinker.
Drift mode allows even the clumsiest wheelman to look like Ken Block. Well, maybe not quite that, but in the right environment – which we would suggest would be a track rather than your local roundabout – all you need to do is get some speed up, chuck it into a corner and plant your right foot. The electronics will then take care of just about everything needed for the execution of a decent enough skid, bar the odd bit of steering input – that's your part.
Launch control is another 'you too can be Chris Harris' toy that takes all the brainache (but not the fun) out of full-bore starts. Engage the mode, stick the box in first, put the pedal to the, er, carpet, dump the clutch and off she goes up the road like the proverbial scalded cat. Sounds a bit vioient, but trying to spare the car by feeding the clutch in more gently actually does more harm than good as it stops the car's brain from optimising all the various elements that make for a truly crisp launch.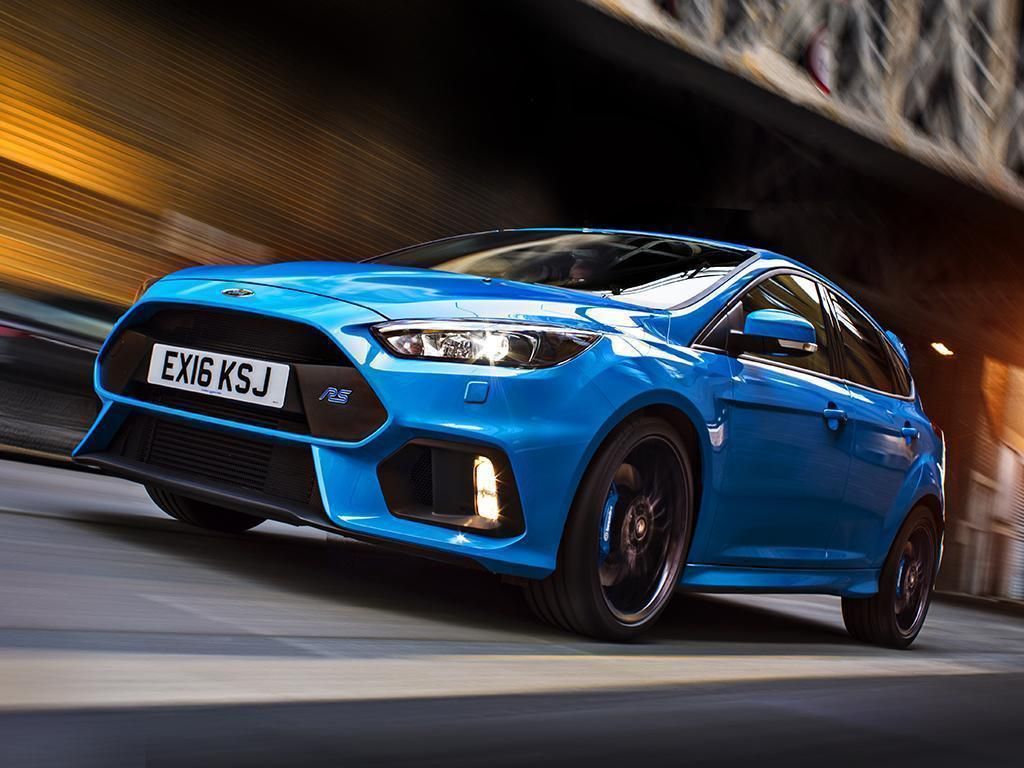 Problems have arisen with the PTU (power take off) housing on aggressively driven tuned cars. Mountune does a beefed up brace for this, but again it doesn't seem to be available to buy at the moment. Knocking noises from the rear can be down to a soft rear engine mount
Problems have also been reported with drive mode selection. This could be solved by deleting the exhaust valve operation, leaving it open all the time, but a more flexible fix was discovered through a simple PCM software update which could be done by the dealer at the same time as the HG fix.
The variable ratio steering of the Focus ST was replaced in the RS by a fixed-rate system which pretty much delivered on its promise of added consistency and feedback. The lock isn't brilliant however and you will need to play an active monitoring role on heavily cambered roads. Sportier modes added (redundant) weight to the rim. Problems with steering sensors were reported by some owners.
Suspension was by MacPherson struts with semi-isolated subframes and an independent Control Blade rear axle. Forged alloys were a £595 option, with the braking duties taken care of by four-piston 350mm ventilated Brembos at the front and 302mm solids at the back. The stopping power is large and the feel excellent.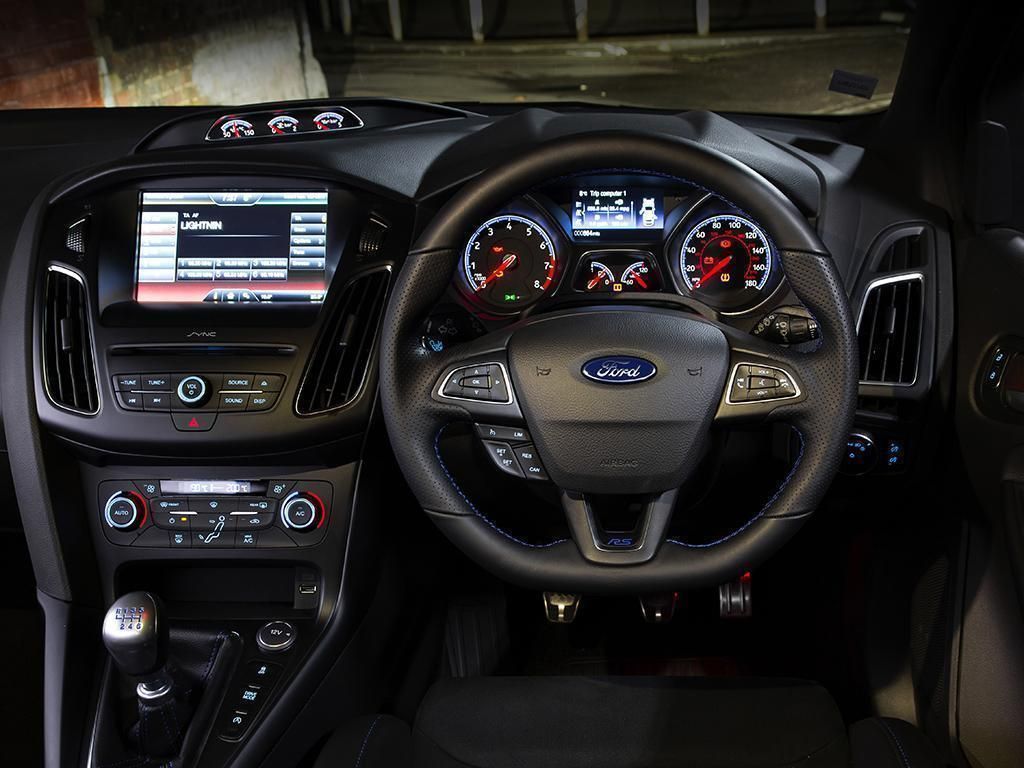 BODYWORK
The standard no-cost Mk 3 RS body colour was Stealth Grey, with white as a £250 option, metallic grey and black at £525, and what many think to be the best colour – Nitrous Blue – at the highest price of £745. The jury remains out on the car's slightly fussy front-end styling with those grey plastic fillets either side of the number plate. Sunroofs can get out of alignment and leak.
INTERIOR
When it comes to desirable specs, the Lux Pack with dual-zone aircon, tyre pressure monitoring, keyless start, rear parking sensors and automatic lights/wipers is worth having. You might also rate the Premium audio that came as standard on later cars, and you'll hope that the car you eventually buy was specced from new with the £1,145 Recaro shell sports seats. They offer better support than the standard Recaros, and create a little extra legroom (at the price of a restricted view) for back-seat passengers, but they're still too high.
It's generally agreed that Ford's Sync2 infotainment system wasn't much cop, saddled as it was by overcomplicated menus. Sync3 was noticeably better (with navigation, a reversing camera and premium speakers being a very worthwhile £465 extra), but that upgrade didn't come round in time for the very first Mk 3 RSs, so if you're at that end of the market it's worth making sure the car you're looking at has Sync3.
Hard suspension and rattly trim are regular bedfellows and the RS doesn't escape this stereotype with occasional cold-weather reports of creaky driver's windows when they're not shut and creaky sunroof blinds when they are shut. One rattle you might find hard to locate could turn out to be an incorrectly clipped-in rear parcel shelf. Another noise might pop up behind the nav screen. Seat leather on the Recaros can wear quite quickly (in less than six months), particularly on the bolster.
VERDICT
We said at the beginning that the Mk3 RS's flaws its low-speed ride quality and the driving position – quickly became obvious to road testers. Even with those glitches Autocar still gave it five stars, which makes you wonder if it would have got six without the flaws. In town, it might sometimes feel a little flat – Mountune cars went a good way towards sorting that – but even if you have a standard car, all you need to remind yourself of the car's sparkling dynamism is a head-clearing blast in the countryside.
Overall it's a fantastic car and a genuine (and more affordable) alternative to tackle like the VW Golf R, the Audi RS3 Sportback and the Mercedes-AMG A45, which a Mountune 375 will match on sixth-gear acceleration between 50 and 70mph (5.3sec).
Performance in any RS is savage, but a less obvious feature of the car is the fact that, behind the RS 'look' (which in the Mk3 is relatively low-profile compared to the Mk2), it's still a spacious and practical five-door Focus that's just as happy battling for space in a MaccyD's car park as it is jostling for position on the Melbourne Hairpin. Servicing intervals are the same as a regular Focus, at one year/12,500 miles.
How about RS residuals? On launch, Mk3 RSs they were expected to retain 51 percent of their value over three years, which was better than the A45, not that much worse than the Golf R, but quite a bit lower than the high 60 percent retention expectations of the RS3.
Today you can get an Mk 3 like
this white 2016 30,000-miler
for a little over £21,000. Moving up only a couple of thousand will net you
this blue 17,000-mile car
at £22,995. Throw another £3k into the pot and you're in for
this Magnetic Grey '17
car with just 2,000 miles on the clock.
Fancy a special edition? Final Edition cars came along in 2018, in either Race Red or Nitrous Blue, while in the UK we got the final final RS Heritage Edition, just fifty of which were made to honour fifty years of the Escort name in the UK. Obviously they weren't counting the 100E estate that also used the Escort name in the second half of the 1950s, but we'll forgive them for that.
In Deep Orange only with black forged alloys, the Heritage featured the Mountune FPM kit that lifted overboost horsepower to 375hp and torque to 376lb ft, and added a front mechanical Quaife LSD. It commanded a £7,000 premium over standard RSs, taking it to a whisker short of £40,000. That might have seemed a lot at the time, but if you bought one and kept it nice you might be in for a killing because here's a delivery mileage car on PH Classifieds at a heady £74,995. The good news is that there's another
one on PH
with just 8 miles up at £61,980. A
Red Edition car
with low miles will be around £32-33,000. Here's
one of the two
on PH Classifieds at the moment.
The rarest RS must be the RS50 Evocation Special Edition. Just three of these were built by Mountune on commission from Ford UK to celebrate the 50th anniversary of the RS marque. Besides the M400 kit (alloy intercooler, high-flow chargepipe, 200-cell catalyst etc) they had forged pistons, ARP studs, balance shaft delete, a 20 percent shorter-throw shifter, DCC adjustable coilovers, rear spoiler extension and a fair few other bits. Two of the cars were in Frozen White, and the other was in Nitrous Blue. Last year we reported on the sale by TrustFord of the two white ones at £83,000 apiece, which was slightly under their auction reserve price. We reckon the blue one is being kept by Ford.
The 2016-2018 Focus RS is likely to be the last one built. Good thing it was mostly brilliant...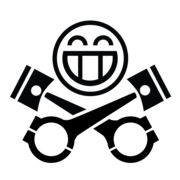 www.pistonheads.com