Discussion Starter
•
#1
•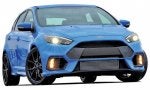 ​
by Nick Bunkley, September 21, 2015
The 2016 Ford Focus RS will have more than twice the horsepower and twice the acceleration as the base-level Focus S sedan. In keeping with that theme, the RS also will cost twice as much, Ford Motor Co. said.
Starting at $36,605, with shipping, the RS hatchback will bring Ford's top-selling global nameplate to a new level of profitability as well as performance when it arrives in North America next spring. Specs provided last week show its 2.3-liter EcoBoost engine will produce 350 hp, a top speed of 165 mph and a 0 to 62 mph time of 4.7 seconds.
If those numbers -- and the car's unique "drift mode" -- have racing enthusiasts salivating, it's the prices that the RS and other upcoming Ford Performance vehicles can command that company executives are eyeing lustily. Volumes may be modest, but for relatively little expense the automaker is able to generate even more profits from existing nameplates, in addition to the image boost they can provide.
"We really want to expand our performance lineup, not because we're gearheads but because we've found that in mix and rates, this is a really huge opportunity," Jim Farley, president of Ford's Europe, Middle East and Africa region, said in a presentation to investors at the Frankfurt auto show. In selling to "people who own those vehicles, we compete really successfully with the luxury players."
In Europe, the RS will cost about 10,000 euros ($11,278) less than the Audi RS3, Farley said. "We can do better volume than them and really good margin," he said, "even on a mainstream product like Focus."
Ford expects about 20 percent of Focus RS buyers to cross-shop with luxury vehicles, Omar Odeh, the marketing manager for the Focus, said after the car was unveiled in the spring.
Results with the Focus ST, which costs $11,305 less than the RS, hint at the type of customer the RS will deliver to Ford dealers. The average ST buyer earns more than $100,000 a year and
spends $1,500 to $2,000 on aftermarket accessories,
Odeh said. About two-thirds of the buyers are new to Ford.
"These are people who are washing their car with a toothbrush and have very high expectations," said Joe Hinrichs, Ford's president of the Americas. "ST products bring in a different customer base than the rest of the Ford products."
http://www.autonews.com/article/20150921/RETAIL01/309219976/ford-focus-horsepower-and-price-double-for-the-2016-rs