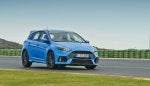 ​
New EVO review (I think, but hard to tell with EVO as they keep regurgitating!)
By Will Beaumont, 20 May 2016
Verdict: The Focus RS continues to impress with excellent performance and fine handling
Evo Rating:  ★  ★  ★  ★  ★ 
Price: £31,000
For + Incredible pace while being fun and adjustable
Against - Interior lacks sophistication and quality of German rivals
evo Verdict
Our favourite hot hatches are, usually, all about purity and mechanical simplicity. This lightweight, no nonsense attitude – perfected by the likes of Renaultsport – has often produced uncompromised, enjoyable hatchbacks.
The Focus RS though, follows a completely different principal. Ford has taken high-tech engineering solutions to endow the RS with the ability to harness large amounts of power and drive with the agility of a smaller, lighter car.
So the Focus RS might not fit our pre-existing mould for an unadulterated hot hatch. But, with a philosophy more akin to a Nissan GT-R, it's still a recipe for a lot of fun.
evo Tip
The standard Recaro seats are very supportive, but look big and a bit ugly. The optional shell-backed items (also by Recaro) are firmer but look excellent and are even more supportive.
evo Comment
'Not once does it get light or floaty over crests or in direction changes, which means you can throw input after input into the car without ever having to wait for it to settle and regain its composure. As it lands in compressions at speed, meanwhile, the suspension soaks up the impact in a single stroke without ever running out of travel.' Dan Prosser, Road Test Editor
Ford Focus RS review - In-depth analysis of the current king of the super hatches | Evo
@Hoonigan
, could you make this look nice like the other review threads?