So I grabbed an ebay.uk 2016 Focus console that came with the sliding armrest.
It's not the RS blue threaded version, it's all black, but for the price I didn't care.
Here is a rough guide - not my best instructional, pics are a bit rough, but it gets the point across.
Remove/Install is easy enough. No need to remove console - everything can be done with console fully in place in the car.
1. Remove rear console panel - two T20 torx screws under two flaps inside console cubby.
2. Pull rear panel back towards rear seat (use your hand gripped inside the small cubby on the rear panel). It will seem tight, but it will let go suddenly. There are 4 clips (2 centre, 2 bottom, in addition to the 2 screws you removed in step 1) holding the panel in place.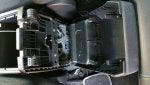 3. Using an appropriately sized tool, push the two armrest hinge pins in towards the centre of the hinge joint. Put them aside.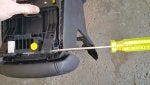 4. Remove the stock armrest. Note the slow-close gear on the passenger side of the hinge mechanism on the console. You will need to maneuver the replacement around this a bit.
5. Place the replacement Euro armrest assembly on the console in the same manner that the stock unit came off. Use a tool of choice to push the hinge pins back in place starting from the outer side towards in inner.
6. Enjoy the new sliding armrest. Lament for the loss of the blue stitching if you're using a non-RS Focus armrest.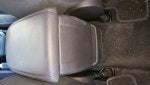 Some notes:
1. Unfortunately the stock NA armrest and the Euro sliding armrest are sized differently. So re-using the RS blue-stitch cover on the euro armrest was not an option. I may try to source a 3rd party RS-like cover that fits the Euro armrest, but tbh not having the blue stitch in this small area is a pretty minor thing.
2. The sliding mechanism is well integrated into the Euro armrest. I do not see a feasible way to transplant the NA armrest pad onto the Euro armrest sliding mechanism.
3. The Euro armrest is longer, thicker, same width, and perhaps twice as heavy as the NA version. It is held closed by a magnet, not a latch. Unfortunately this magnet cannot be mounted in the N.A. console without some hacking away at the plastics. Personally I find the weight of the armrest enough such that I'm ok without any closed fastening mechanism. It's heavy enough to stay in place and not bounce around.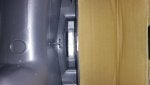 4. So really
all you need is the armrest part to swap over from stationary to sliding armrest
. No other parts required.
Other pics.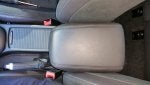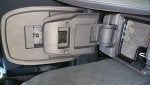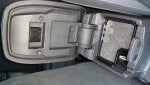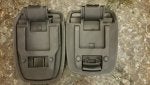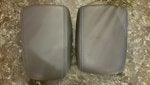 NA on top, Euro on bottom