We got a lot of snow this year and I got to drive a lot in limited visibility conditions. I decided I wanted to install the rear fog the European RS' have. I'll gather all the information I can in this thread (will update as I move along the steps) and use it to search for help with the wiring (hoping to figure out if it can be wired to the BCM and use the euro headlight switch with rear fog button).
Here we go! As I said I'll update this every step of the way. Posting this in the lighting section as I'm doing it for the purpose of adding the light, not for aesthetics of having the euro diffuser!
Step 1) Parts
Diffuser:
P/N G1EY-17F954-A
--> Bought mine on eBay UK (used), also available from Ford Parts UK if you send them a part inquiry. I read on some other posts it was about 120GBP.
Rear Fog Light:
P/N G1EY-15K272-A (also found it listed under P/N 2009072)
--> Found some listed on eBay UK, Ford Parts UK has it listed on their site for 185GBP which is really pricey!
--> Found some alternative, will confirm about fitment once received:
1) LuxVision (shipped next day from UK, in stock, similar design to the Ford unit):
https://www.carbuildersolutions.com/uk/55mm-led-fog-light-with-clear-lens
2) Hella (6 weeks special order, looks identical to the Ford unit):
https://www.rallylights.com/hella-55mm-led-turn-reverse-or-rear-fog-lamp.html
Headlight Switch:
Found one used on eBay UK, simply look for one that looks as shown below (with rear fog button instead of hatch open button). Make sure it's not the one with the headlight beam adjustment button at the middle of it which is the most current one it seams.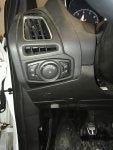 Step 2) Headlight Switch Installation
I've done this already, once replaced the euro switch activates the rear fog indicator in the instrument cluster...hopefully this is good hope that the BCM actually has an output for the rear fog.
1) Pull back the door seal as required for dash side panel removal: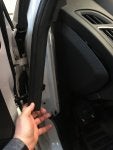 2) Remove the dash side panel, start from the bottom and slowly pry the 3 metal clips out as shown below: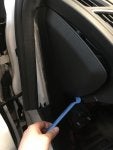 3) Reach the back of the headlight switch and push it out...it comes out really easily, it's only held in place by the 4 small flexible metal tabs, disconnect wiring harness at back of switch (note the switch P/N seen below is the NA switch P/N, sorry I did not note the euro switch P/N, see step 1) for buying tips based on switch appearance):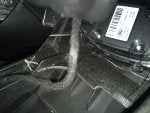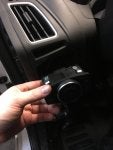 4) See below the euro and NA headlight switch, install in reverse order (I know my dash trim around the switch is broken, found it broken after someone posted about this issue, will not bother about it):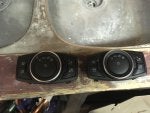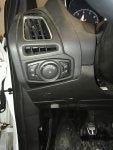 5) Notice how the rear fog button now activates the rear fog indicator in the instrument cluster when pressed (requires the headlights to be on, might work with the corner lights only too I think):
Step 3) Diffuser Replacement and Fog Light Mount
Our NA rear bumpers do not have the mouting provision for the rear fog light (see pictures below of the UK bumper cover light mount). I will post information on how I mounted the light once completed. I did get a picture from another member who mounted the rear fog light using small brackets (see below). I'll either use this idea or fiberglass a mounting flange or depending on fitment mount it to the diffuser itself. Diffuser replacement should be pretty straight forward though (same mounting tabs/points).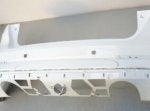 Step 4) Wiring
To be updated once I figure it out (will need help)!
I hope there is a way to make use of the euro headlight switch to control the rear fog through the BCM. I found it has been done on Fusions so hopefully it can be done on our cars.
Otherwise I will wire it to a switch located somewhere within reach and view of the driver seat...plan B!
Step 5) Forscan
Might be required to activate the rear fog output from the BCM...