Discussion Starter
·
#1
·
Here's my attempt to give something back to a great forum. It will likely appeal to a very limited audience, but if the phrase "salt life" conjures thoughts of plow trucks and brine tanks before sandy ocean beaches this may be of interest to you.
I live in the rust belt and I'm always looking for a way to make it easier/faster to rinse my car off in the winter. I have a detached, unheated garage and no decent car washes nearby so here is something I came up with that allows me to rinse my RS down in the winter even during the exceptionally long, cold stretches that drag on.
What is it?
- Basically, it's a very portable pump system that allows me to rinse off my RS with warm water when I can't use a hose and the water tap on my house. Adding to the convenience, when not in use I can store all the washing bits in the bucket (hose, soap, nozzles and attachments.)
In this picture you can see the Salt Away undercarriage washer I made out of some PVC pipe. It was cheap to assemble and makes it so I don't need to bend down to spray the underside. Salt Away coupled with the warm water helps dissolve the salt and leaves a thin film to prevent corrosion. I can provide more details on this sprayer if curious about it.
How does it work?
- I fill some 5 gal buckets with warm water and bring them out to the garage. The pump is attached to a bucket lid and draws water out of the bucket it is on. It's an "on-demand" style pump so it only runs when you squeeze the sprayer. The pump pressurizes the expandable garden hose (which also acts as an accumulator) and provides plenty of pressure to rinse of the undercarriage and wash the car.
What did you use?
- SHURflo Industrial Pump - 198 GPH, 115 Volt, 1/2in, Model# 2088-594-154 (self-priming, on-demand)
- 5 gal buckets
- Lid for 5 gal bucket (what the pump is mounted to)
- Expandable 50 ft garden hose (expandable allows the pump to store pressure, fits nicely in the bucket when done)
- 6 ft tool replacement cord (to give the pump a cord)
- 1/2" vinyl tubing (to dip into the water below the lid)
- Adapter from pump outlet to garden hose (connects 1/2" male NPT outlet on pump to 3/4" garden hose thread)
- 90 degree 1/2" SHURFLO elbow (to connect vinyl tubing to pump inlet)
- #8 stainless hardware (to attach pump to lid)
How did you assemble it?
- 1) Modify bucket lid to mount pump and add dip tube and viewing port to see water level. I used a Dremel and a drill.
- 2) Wire up pump to cord. The pump is NOT waterproof so need to be careful with over spray but I did heat shrink all the connections.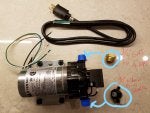 - 3) Mount pump to lid with #8 stainless hardware.
- 4) Fill buckets with warm water and get that salt off!
Some additional details/thoughts on this:
- It takes me about 3.5 buckets to spray the undercarriage, soap the car, and rinse it all off. I use an additional .5 gal to rinse out my wash mitt as I go. Could use more if you want to stick to the two-bucket-method.
- Total cost is around $220 for pump, hose, foamer, buckets and lid, piping adapters, power cord, hardware. Not cheap but it was a rewarding project and car washes aren't cheap.
- The pump provides about the same amount of pressure as my house in the summer, so that was a nice surprise.