Discussion Starter
•
#1
•
DISCLAIMER: This has potential to damage some unseen/hidden parts of your car. Please proceed with caution.
After 2000mi the rattle had become constant in my RS and it was driving me insane so I gathered all the collective info from this thread:
http://www.focusrs.org/forum/9-focus-rs-discussions/6369-b-pillar-rattle.html
and went at it. I was really short on time over the weekend but I had reached a boiling point so I suggest you do this with plenty of time to spare and learn from my mistakes to do a cleaner job. I have been without the rattle for 5 days now, including an aggressive ~80mi canyon run and I couldn't care less about some bent mental behind some rubber as long as that damn rattle is gone. It's like I have a new car again.
Special thanks to everyone that contributed in the b-pillar thread with their findings, I couldn't have done it without that info.
I actually started on the rear side of the b-pillar and screwed that side up rushing through it. I actually started it in a dark garage at work because I was impatient, then continued at a gas station because the noise still persisted later that night before realizing and moving to the front side of the b-pillar (closer to the drivers seat) where my specific noise seemed to have been coming from the whole time. After this ordeal the only thing I'm 100% sure about is that the noise is definitely coming from these stuck together metal sheets. I actually knew it as soon as I pried the very first piece because the noise that it made when I pried the metal apart resembled the "rattle" sound that I was hearing from the b-pillar.
1. Step 1, gently pull on the rubber seal along the b-pillar until you see the bare metal for the section you think the noise is coming from. Unlike me, take time to try and pinpoint that by listening to it when it's happening before doing any prying. Focus on the section you think it's coming from first then work your way out. Driving the car in between pries if you want to be mindful of how much prying you're doing. This was easy for me since I have a really bumpy road close by that I heard the noise 100% of the time on but it may be more difficult for others for who this isn't really constant or they can't reproduce on command.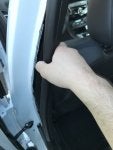 2. Start prying away at locations between spot welds (indicated by circular indented dots) as indicated below. I used a metal screw driver because it's all I had the first time I tried but I recommend a combination of both a metal screw driver with electric tape on the tip (somewhat hefty you'll see in later photos) and a plastic pry tool to pull the metal apart so you can stick the screw driver in to pry it apart. Reason for this is I don't think a small plastic pry tool that can fit in the middle of these metal sheets is strong enough to actually pull them apart.
Note the red and green arrows. In hind site I wish I had not done the red arrows side at least until I had tried the other side of the b-pillar where I discovered later that my noise was coming from (I doubt the specific location will be the same for any two people so more importance in starting at
both
sides of the b-pillar where you best hear it coming from.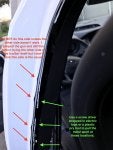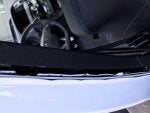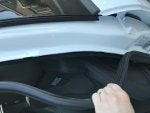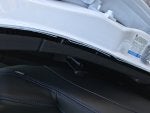 3. I found some Lithium Grease (Thanks to
@DocWalt
for the suggestion) from Low's with the red nozzle to be able to get deep into the creases and I sprayed it everywhere I could fit it.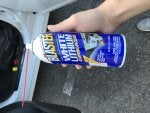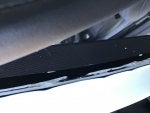 4. I drove around for a good while after this and was confident that I had finally gotten rid of the damn rattle. I then used Robo Grip pliers with rubber teeth protectors once the grease had settled a bit to push things back together as much as possible. The white stuff coming out is just residual lithium grease.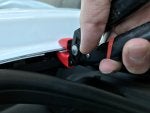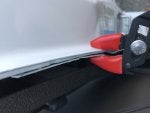 After this I drove around again, and have been driving for days now with zero reoccurrence of the b-pillar "rattle" that's more like a nail being driven into your head. While I was doing it I was pretty sad that I'm causing a bit of damage but the fact that the rattle seems to be gone now I'm absolutely ecstatic and couldn't care less. :driving::happydance::happydance:
Please let me know if I can help clarify anything.