PS: You may also find this interesting:
http://www.focusrs.org/forum/30-focus-rs-electronics/10929-adjusting-fake-engine-noise-volume.html
, but read this first for background.
PPS. This information is applicable to Sync 3 only. My understanding is that the EU cars using Sync 2 do not have the same FEN source. For Sync 2 Euro cars I believe the information you are looking for is here:
https://mk3focusrs.club/forum/topic/fake-engine-noise-removal-guide/
(you need to be a member of mk3focusrs.club to see the post).
Personally I find the generated in-cabin engine noise a bit much... a little too fake, and a little too loud.
With some quick experimenting re DSP connections I was able to disable the fake engine noise by simply disconnecting this connector on the DSP.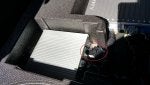 This connector is likely CanBus I/O to the DSP (Fake Engine Noise Generator aka FENG). By unplugging it you are stopping CANBUS messages getting to the FENG telling it to generate FEN at various times/levels.
In any case, this is a quick fix for anyone that wants relief from the fake noise. There are no detrimental effects as a result of disconnecting this connector.
The first thing you will notice is just how darn quiet the car is inside the cabin!
PS. This is on the 10-sp audio package with voice activated Nav... I don't know if this would apply to other audio package options in the U.S. We only get one option in Canada.
------------
Update:
You will be astounded with just how much of our "high performance engine sound" is artificial. I mean, it's not a little bit of enhancement, it's a HUGE amount of enhancement.
Still, I personally prefer the quieter sound now. Plus from what I recall reading isn't Ford using this generated sound to encourage drivers to shift earlier by fooling them into thinking the engine is revving higher than it really is?
1. There are two wires on this connector. White (lower), and White/Blue (upper). Confirmed (with help from
@NZWINRZ
and
@seamusbleu
) that this connector is indeed a CANBUS connector. Looking at some other recent Ford vehicle wiring data, white is frequently used for HS CAN low and White/Blue for HS CAN high.
2. With the connector disconnected:
a) there is no fake engine noise - well, duh
b) speed sensitive volume continues to function normally
c) voice activated controls continue to function normally
d) sub-woofer continues to function normally
e) Pops and Burbles are still there - at least
they're
not artificial.
Also noted that hot [un]plugging this CANBUS connector while car is running
appears
to have no detrimental effects and [de]activates fake sound as it's hot plugged or unplugged. So it *may* be ok to put an old-school switch in there if desired. Disclaimer: Note I say *may*... I am not saying you should... I take no responsibility for any damage you may do to your own vehicle if you start mucking about with switched connections, etc.
Final Update:
1. See
http://www.focusrs.org/forum/30-focus-rs-electronics/10929-adjusting-fake-engine-noise-volume.html
for some more fun (and
VIDEOs with sound comparisons of full FENG, partial FENG, no FENG
).
2. The DSP box (Fake Engine Noise Generator - now aka FENG) can be entirely removed and put aside (save 1lb of weight! ;-) ) without issue.