Discussion Starter
•
#1
•
The RS-specific Jack Rails have arrived!!! A first batch is in stock and ready for shipping!!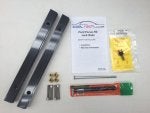 Thanks again for all of the Owner Community feedback! Left to our own devices, we would have had these coated in a Ford Race Red color. However, thanks to (mostly constructive) feedback, we went with a dark metallic gunmetal gray color. We're really happy with the way they turned out.
For those that may be new to the party, the RS is a pain in the rear to lift properly. The OEM lift points are not easy to access and if you lift from them, it is hard to place a jack stand where your jack is! Traditional pinch-weld lifting is compromised because the unique lower body cladding actually overlaps the pinch welds… particularly right where you'd want to lift the car.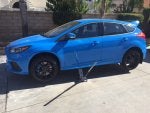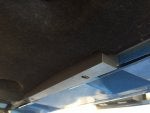 Have a look at the attached pictures. We placed some painters tape on the lower cladding to show you where the Jack Rails are. Basically, if you want to insert the jack blind, the halfway point between the front edge of the door handle and back edge of the mirror will pretty much land you right on the Jack Rail. But, perhaps one of the nicest features of the Jack Rails is that they are right at the fore/aft CG of the car. So, lifting at the Jack Rail will lift the front and back evenly. You can then place your jack stands, swap wheels, etc. DON'T try lifting here without the Jack Rails as this is the area where the cladding is over the pinch weld (see close-up pic of the floor jack under our Jack Rail.
Finally, some of you had envisioned that the Jack Rails would sit low and be susceptible to get struck by road debris, etc. However, this is really not the case. We designed them to be just about invisible and they are only fractionally lower than the seam weld… They blend right in with the underbody of the car and are not even noticeable…. Until you want to use them.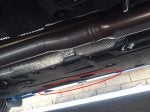 The Jack Rails are CNC milled from 6061 billet aluminum and then they are completely powdercoated. We think most owners will opt to install these themselves so the kit includes a drill bit that is used to fractionally enlarge existing OEM holes and a rivet nut installation tool.
They can be ordered from our website here:
RS Jack Rails - CoolTechLLC