Discussion Starter
•
#1
•
Here's what to know about the Super Duty's newest trim line.
By
Jake Lingeman
Jan 17, 2020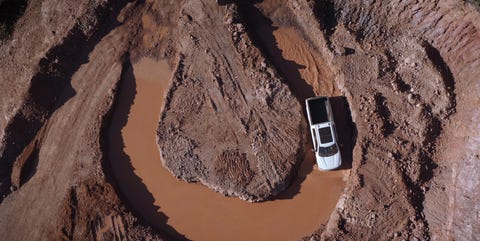 The 2020 Ford Super Duty pickups are on sale now, but the big news is the Blue Oval's new $3,975 Tremor off-road package. The option box readies the pickup for off-the-grid adventures with a max conventional towing rating of 15,000 pounds, a water fording depth of 33 inches, approach and departure angles of 31.65 and 24.51 degrees, respectively, and 35-inch diameter Goodyear Wrangler Duratec tires. We'll have complete driving impressions coming next week, but in the meantime here's what you need to know about the Super Duty Tremor: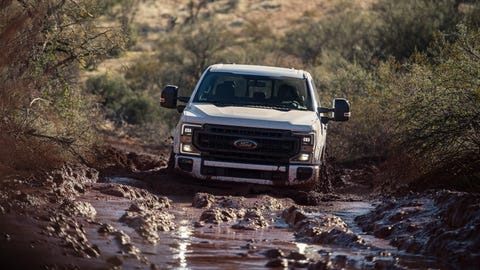 The Ford Super Duty Tremor comes with Goodyear mud tires wrapped around 18-inch matte black wheels. The grille and trim can be ordered in the same finish.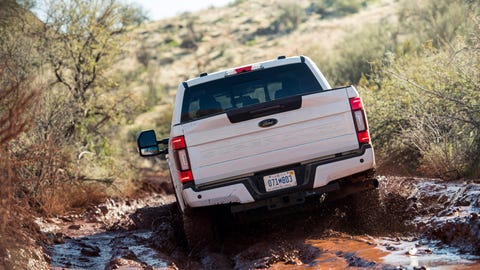 The Tremor package on the Super Duty is available for XLT, Lariat, King Ranch and Platinum F-250 and F-350 models with either the new 7.3-liter V8 or the returning 6.7-liter diesel.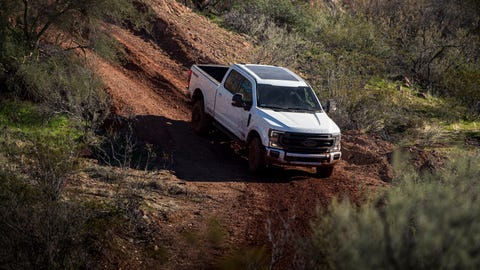 Hill Descent Control allows the driver to set a downhill speed, starting at 1 mph, to safely creep down steep inclines.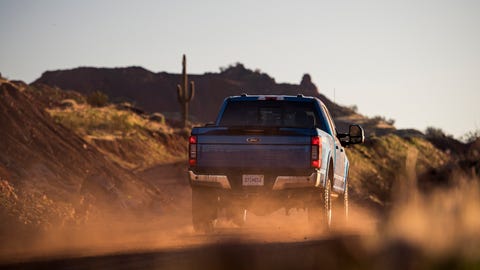 The Tremor features Ford Trail Control software with rock crawl modes. When selected, the gauge cluster switches to display pitch, roll and throttle readouts.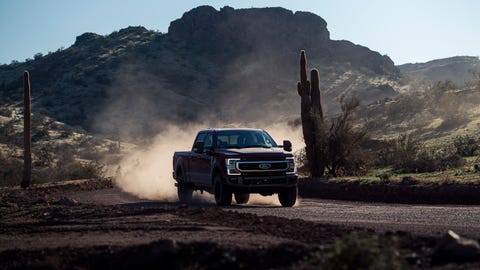 The Ford Super Duty Tremor gets custom heavy-duty dampers for trail riding, along with a front end lift and Raptor-style running boards.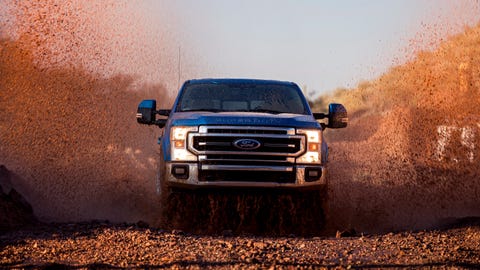 Ford says the Super Duty Tremor can ford 33 inches of water—or mud, in this case.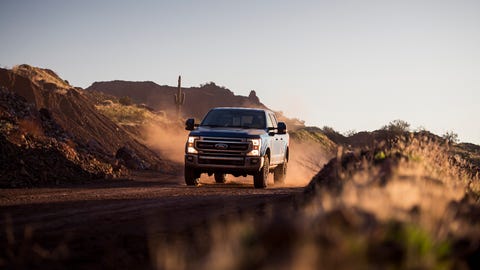 All Ford Super Duty Tremor pickups come with a locking rear differential with electronic shift-on-the-fly engagement and a new Dana limited-slip front differential.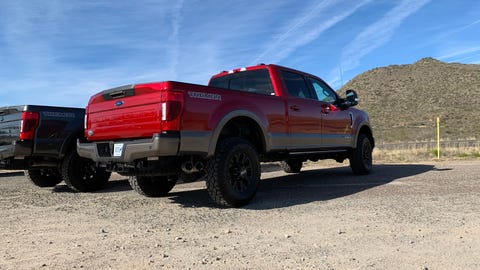 The Tremor comes standard with 10.8 inches of ground clearance.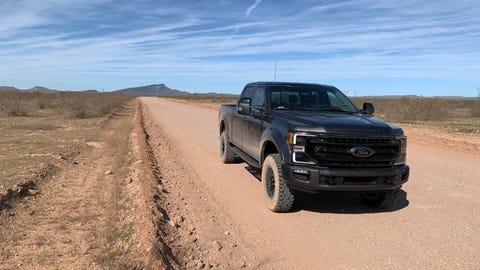 The gas-powered 7.3 is the middle ground between the gas 6.2-liter V8 and the diesel 6.7-liter V8. Delivering 430 hp at 5,500 rpm and 475 lb-ft at 4,000 rpm, the new powerplant was built for durability and ease of maintenance. As we talked about when the engine came out last year, the crankshaft is forged steel, as are the rocker arms. It gets a variable-displacement oil pump and piston cooling jets.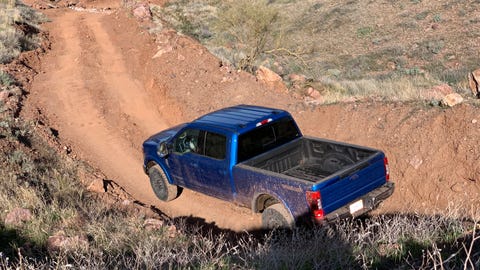 Tremors with the 7.3-liter V8 get a 53:1 crawl ratio, while the 6.7-liter diesel features a 44:1 ratio.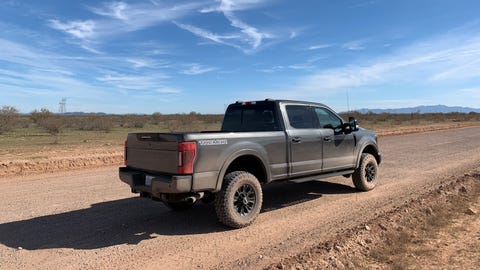 The 6.2 V8 produces 385 hp at 5,750 rpm and 430 lb-ft at 3,800 rpm. The returning 6.7-liter diesel comes with 475 hp at 2,800 rpm and 1,050 lb-ft of torque. There are now two trucks delivering four figures of torque. And you can bet that when Ram hit the 1,000 mark, Ford truck buyers knew that it was coming their way soon.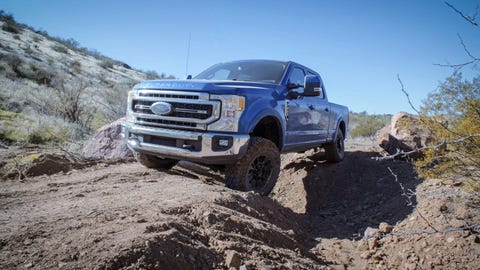 A 12,000-pound Warn Winch is a $3,000 option on the Tremor Super Duty.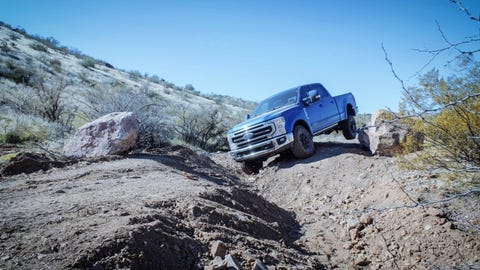 The power steering system technically is an electronically controlled hydraulic system that Ford says offers the benefits of both electric and conventional systems. Ford's current EPAS (electric power-assisted steering) system isn't powerful enough to work on the Super Duty pickups, but the electric helps the hydraulic when you need it, like when crawling around a dirt pit.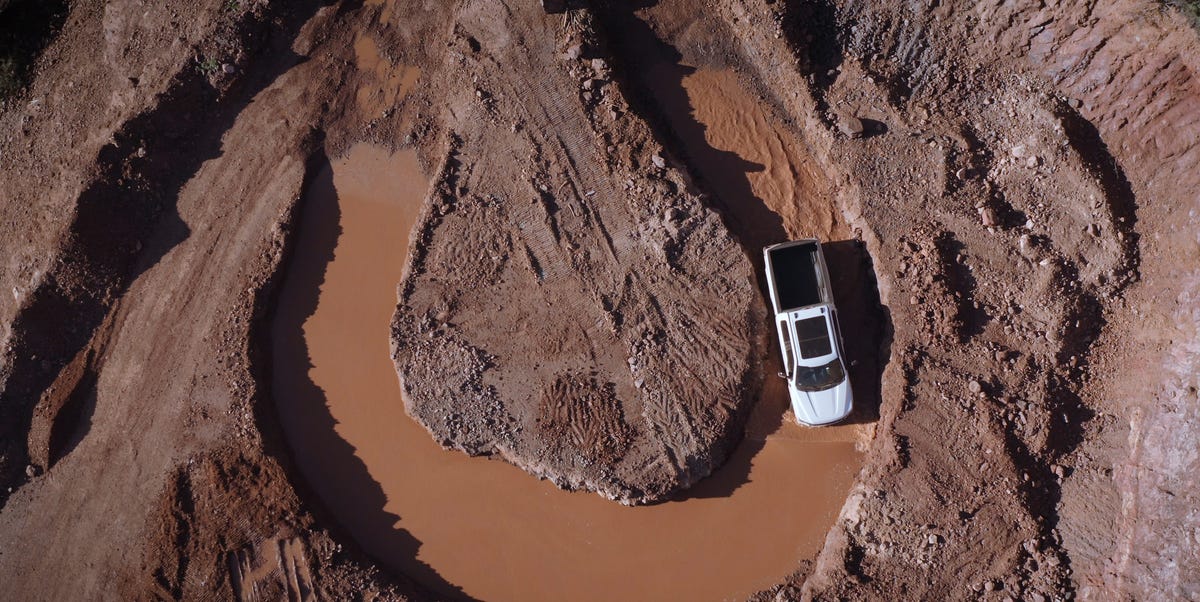 Here's what to know about the Super Duty's newest trim line.
www.autoweek.com