Carbon Fiber Wrap (DiNoc CA-421) on front bumper cover
TL;DR Wrapped centre bumper piece in DiNoc CA-421 Matte Carbon Fiber wrap
The Story:
I recently had xpel done on front of the car. I had a problem that the matte black centre piece on the bumper cover was marked up enough that it really was not going to look good xpel'd (and I had even bought some matte xpel for it).
So I had everything in the front done except this piece with the intent to take it off, fix it up, and then matte xpel it.
I initially ...
- took off front bumper cover and removed the centre piece
- repainted it matte black (I was too cheap to take it and have it professionally re-painted - i figured what's the point of spending $$$ on this when it's just going to get beat to crap again)
- had it covered with xpel matte
After the above process imo it looked like crap. The matte black re-painting looked very good to the naked eye
before
xpel, but when the matte xpel was applied every single minor imperfection in the paint was extremely highlighted. My wife tried to convince me that with the piece down low in the front, the angle of view would not show the highlighted imperfections and it would all be good. I agreed, kind of, and it sat in the house for 1.5 days waiting for me to re-install it while I stewed over it.
So I happened to have some CF DiNoc sitting around from previous wrapping of some interior parts on my GT-R. As I looked at this bumper piece with growing disgust, I decided to wrap it before re-installing it.
I've wrapped several smaller pieces - some with tricky curves and edges - so while I'm far from any pro level, I'm comfortable playing with this wrap. This piece was surprisingly challenging though because of the multitude of curves. It took a lot of heat to get a wrinkle free one-piece wrap on it - but in the end it turned out ok I think.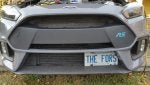 I know it's not for everyone, but I personally prefer the matte CF look of the CA-421 DiNoc.
I have no idea how this is going to hold up to the elements fwd facing on the front of the car like it is. I suspect I'll end up replacing it every year or two - we'll see how it looks in the spring.
Here's some details of the procedure is anyone is interested...
PS. Also added DMB gels (front, rear, wing) at same time.
Remove the front bumper liner... this is a decent guide video:
The points of fastener removal and clip points are circled below.
I hate these, bugger to work off without breaking it... but it's possible - take it slowly... fortunately there are only 2 of these.
Gently pry each side of these clips up a bit at a time. There are 6 of these clips.
Your liner will look like this with the centre cover removed.
Here's what my centre looked like before starting... yuck.
Clean the piece well before starting. Front AND back. Of course remove the RS logo (apply some heat from behind) and the tow hook cap.
This is a tricky piece to cover... if you've never done DiNoc on irregular shapes before, slow heat, stretch, smooth and repeat.
I also suggest applying some 3M adhesive primer to the BACK of the cover where the DiNoc will overlap to. This helps adhesion tremendously and will ensure the wrap-around ends stay tightly in place. I also coated the inner section of the RS logo and the recessed area where the tow hook cap is to enhance adhesion in those areas. I did NOT prime any other areas because you WILL need to lift/reapply the vinyl now and then and once you lay vinyl over primed areas it is extremely difficult to pull up without damage.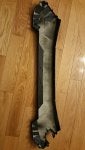 Reattach the logo using some 3M body panel tape.
Of course you'll need to wrap your tow hook cover. Take care to align the material as best as possible with the alignment on the main centre piece so it follows the same orientation and grain.
Re-install and enjoy!