Hello everyone from California. I took delivery of my 2016 Nitrous Blue RS in early December of 2016 after waiting well over a year since ordering. I started out as a relative newbie to doing modifications, having only done appearance and lighting modifications to the BRZ I owned prior to the RS. Thanks to the awesome folks of this community and friends of mine who are much more technical and experienced than I am, I have learned a tremendous amount so far, both from working on my car and becoming a better driver. Given the number of modifications I done so far, I thought it would be a good time to start a build thread. I have more in-depth write-ups for some of these modifications scattered in various places and will be consolidating them on a blog that will serve as a detailed build log. I will be updating this post with links once those are ready.
For more day-to-day activity, follow my Instagram:
@apextheorem
Specs
Nitrous Blue
RS2 Package
Forged 19" Wheels
Michelin Pilot Super Sport Tires
Winter Wheel and Tire Package
Order to Delivery:
Ordered: 16 Oct 2015
Selected for scheduling: 8 Apr 2016
Scheduled build date: 15 Sep 2016
Final ETIS build date: 11 Oct 2016
Received at Zeebrugge, Belgium: 19 Oct 2016
Confirmed on boat at Zeebrugge, Belgium: 23 Oct 2016
Arrived at Port Hueneme, CA, USA: 17 Nov 2016
Arrived at dealer: 5 Dec 2016
Took ownership and drive home: 10 Dec 2016
Goals
Optimize for track while maintaining comfort. I will be regularly tracking this car to learn performance driving but this is not meant to be a dedicated track weapon. I drive this car daily and also take it on trips.
OEM++. Modifications should generally appear factory. I prefer avoiding excessive amounts of branding and color on aftermarket parts.
Functional aesthetics. Aero, body, and suspension modifications should be functional and will be tested on track.
Focus on driving experience. This car is already a joy to drive stock, but there are ways it can do better. Interior modifications, such as steering wheel, shifter, seats, etc. should aim to make this car even more amazing to drive.
Completed
WeatherTech Floor and Cargo Liners (21 Dec 2016)
Raceseng Ashiko Shift Knob (22 Dec 2016, removed 23 Jan 2017)
YourLittleCNCShop Pedal Spacer (29 Dec 2016)
Diode Dynamics LED Replacements (trunk, vanity, side marker, mirror indicators, rear brake lights, reverse lights) (26 Dec 2016)
Rally Armor Mud Flaps (22 Jan 2017, removed 20 Jul 2017)
YourLittleCNCShop License Plate Bracket (23 Jan 2017)
Raceseng Slammer Shift Knob (23 Jan 2017, removed 9 Jun 2017)
Sync 3 v2.2 and USB Hub Upgrade (15 Jan 2017)
CoolTech Jacking Rails (12 Feb 2017, removed 7 Aug 2017)
Milltek Catback Exhaust System, Non-Resonated, Ceramic Black Tips (15 Apr 2017)
Velox Rear Diffuser (15 Apr 2017, removed 30 Sep 2017)
Mountune Quick Shift Arm (22 Apr 2017, removed 7 Jul 2017)
Steeda Hood Struts (30 Apr 2017)
ThinkWare F770 Front and Rear Dashcams (7 May 2017)
SRP Racing Pedal Covers (9 May 2017)
Allwyn Steel Aluminum Undertray (aka Dorian's Undertray) (13 May 2017, removed 13 Sep 2017)
YourLittleCNCShop Shifter Cable Bracket Bushings (31 May 2017)
FENG Delete (1 Jun 2017)
Anarchy Motive 6 Speed Titan Shift Knob (9 Jun 2017)
Diode Dynamics LED Rear Turn Signals with load resistors (11 Jun 2017)
BMSPEC Side Splitters Prototype (4 Jul 2017)
Boomba Short Shifter Arm (8 Jul 2017)
YourLittleCNCShop Shifter Base Bushings (8 Jul 2017)
Steeda Clutch Spring (14 Jul 2017)
BMSPEC Front Splitter Prototype (28 Jul 2017)
Massive Speed Systems RaceSpec Adjustable Rear Camber Arms, Conspiracy Finish (16 Sep 2017, removed 15 Oct 2017)
Massive Speed Systems Adjustable Toe Arms, Conspiracy Finish (16 Sep 2017)
Feal 441 Road Race Spec Coilover Kit, Custom Valved (16-17 Sep 2017)
BMSPEC Wing Extension Prototype (30 Sep 2017)
Enkei NT03+M 18x9.5 ET40 Offset Wheels, originally Formula Silver, powder coated Matte Black, Yokohama Advan Neova AD08R 265/35R18 Tires (7 Oct 2017)
SPC Performance Camber Arm (15 Oct 2017)
BMSPEC Rear Diffuser (19 Oct 2017)
European Cup Holder Assembly (22 Oct 2017)
Adaptec 3mm Wheel Spacers (22 Nov 2017)
Front Fender Pull (22 Nov 2017)
BMSPEC Front Splitter Hammerhead Extensions (16 Jan 2018)
Focus SE spoiler (8 Feb 2018)
BMSPEC GT Wing (8 Feb 2018)
Queued
Damond Motorsports Motor Mounts (ordered 12 Feb 2018)
StopTech Slotted Aero Front Rotors (ordered 12 Feb 2018)
StopTech Slotted Rear Rotors (ordered 12 Feb 2018)
Brembo LCF 600 Brake Fluid (ordered 10 Feb 2018)
Track Brake Pads (currently researching, needed before 24 Feb)
Oil Cooling System (currently researching)
TrackSpec Hood Vents (In discussion with vendor)
ARP 2.5mm Wheel Studs (ordered 12 Oct 2017)
KW Electronic Damping Cancellation Kit (lower priority but will install soon)
SSTuning Steering Wheel with Shift Lights (sent to SSTuning for adjustment)
Future Work
Water Injection
BMSPEC Undertray Extension
Weight reduction where appropriate
Improve access to camber and damper adjustments on front strut towers
Powertrain cooling
Recaro Sportster CS Seats with RS logo custom embroidered (with heated option)
Installed then Removed
Raceseng Ashiko Shift Knob (removed 23 Jan 2017) - too bulky
Raceseng Slammer Shift Knob (removed 9 Jun 2017) - still felt too bulky
Mountune Quick Shift Arm (removed 7 Jul 2017) - reverted to stock transmission shifter, installed Boomba Short Shifter instead
Rally Armor Mudflaps (removed 20 Jul 2017) - removed after installing BMSPEC aero to reduce drag
CoolTech Jack Rails (removed 7 Aug 2017) - hole did not line up on driver side, removed now that I have access to a lift
Allwyn Steel Aluminum Undertray (removed 13 Sep 2017) - BMSPEC flat undertray in development and will be installed in its place
Velox Rear Diffuser (removed 30 Sep 2017) - will install BMSPEC Rear Diffuser in its place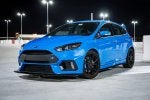 Photo cred:
BMSPEC