Going to do my best at this. Don't expect @
Hank
level quality. His are spectacular. Sorry for the sideways photos too. I still don't have a clue on fixing those. @
Sleeper
, hope you like the thread. I definitely think this is what you are looking for. Year-round.
So, this is kind of an install and review all in one. I have been trying to find an undertray that is beautifully made, has a superior mounting system, and is highly functional in any weather or usage. I have Dorian's latest tray, including the access doors. And while it is nice, it is super heavy (great for real off road rally but overkill for me), still uses OEM plastic crappy red mounting points, and is quite rough around the edges in terms of polish/finish.
Well, I came across ADF Customs on Facebook, they had trays for the ST that looked incredible, and sure enough, the RS was in production. Did some corresponding with them re things I liked and disliked on the Dorian's tray and the Skid Plate Guy tray. They then completed their design and I bought one of the first ones. Finally got a chance to install and in summary: Amazing.
First, pre-install walk-around the tray and the components:
Incredible fit and finish, multiple colors available, strong yet lightweight design, fully functional superbly crafted ducting to match OEM tray. No oil change access door, although ADF said they would consider adding it if there was demand. But it is so beautifully mounted and removable, I don't care (see below).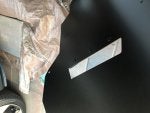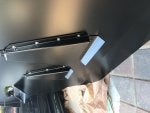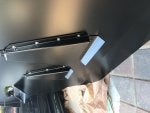 The hardware -- Where it gets even better. Rather than rely on the crappy red plastic inserts and screws to secure the tray. The ADF tray has a system of RivNuts and standoffs that are just genius. Perfect clearance for components, even larger aftermarket pipes, etc. (I know some folks had issues with Dorian's tray rubbing on AC compressor. There was also an issue of interference with the RMM bolt and some folks cut out a relief hole). The standoffs are super beefy, incredibly secure, and as a result, enable the ADF tray to be fastened with a conventional 7/16" socket/power ratchet on the nut/bolt. I feels is incredibly secure and strong unlike the OEM tray/mounting system.
All the hardware bits, and ADF even throws in a couple of extra RivNuts in case you F-Up. LIKE I DID on my first one. Cranked it too hard and stripped it (Super easy to remove if you do BTW, just use a Dremel on to remove enough flange and it pops right out, easy) No problem re-installed one of the extras.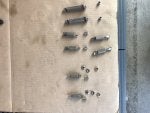 The tools and install:
Basic tools all around, wrenches, chingadera, etc., with one exception that I highly recommend (it is not necessary and you can find loads of YouTube video showing DIY alternatives). A rivnut setting tool. I bought this one of Amazon:
Astra Tools 1442. Can do far more than this install but it made this one really easy. Great YouTube video on this exact tool at: You Need This Tool Fool - Episode 55 -
And the setter you need is 1/4 20. Included in the Astra kit.
Onto the install - The instructions are super clear, super easy to follow. I did it on RaceRamps, lift would be easier but not needed.
Basically, use your all powerful jedi master chingadera to pop out the red plastic crap mounts in the spots indicated. Put rivnuts in their place. Put stand-offs in where indicated, tighten with 1/2" wrench (used red threadlocker on them per instructions). Then, position and bolt on your undertray (use one bonded washer, a lock washer and a 7/16" nut). Two of the standoffs go on without rivnuts. They use pre-existing holes near wheel fender liners, also super easy to get to and install. I think I may experiment with nylock washer (so I have less stuff to lose on the ground when removing/installing) versus the bonded washer and lock washer and conventional nut. BUT, it works and works well.
Gotta continue this in second post. Too many attachments. Coming up shortly.