After much internal debate, I decided to go all in on trying to defeat the (in my eyes) troublesome, and interfering brake systems. Too many times I felt the brakes were doing things I didn't request - erratic stopping power when it assumed I was panicking, ABS intervention and the hard pedal on snow and ice, and the irritating need to hold the traction control button for 5 seconds every time I got in.
Turns out, it was surprisingly easy to do, and in 2 months of daily use I have not seen any negative effects. No warning lights, no unusual behavior.
What you need:
-ABS pump unit. I got mine for about $300 shipped from a wrecker.
-FORscan and a compatible adapter. I used the OBD link MX+. Or, you can go to a Ford dealer and have them initialize the unit there.
-A smaller battery, or a more creative mounting solution than I used.
First thing, take out the battery, and battery box. This will give you access to the current ABS unit.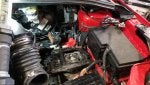 Disconnect the pump, and decide how you'd like to mount the new pump. I used the bracket that came with it, and modified it to use some of the bolt holes from the battery box.
Because I want this to be pretty permanent, I filled the new pump with a little brake fluid to lubricate it, and then capped off the ports. This may or may not be neccessary if you only intend to use it once in a while.
Given the very limited space back here, I found this to be the best position for it. If you don't want to do the next step, you might be able to find a different way to mount it. I wanted things to look stock, so.... cut out a section in the battery box.
Just take out a corner of it, big enough to clear the new pump.
Now obviously the huge stock battery won't fit in there anymore. I used a Subaru battery, as I have many lying around, but there are certainly smaller ones you could use.
Next, connect power and turn the car on. At this time, you'll be seeing all kinds of warning lights, AWD off etc, this is what stopped me on my first attempt at this. I didn't realize it needed to be programmed. Connect to Forscan to calibrate and initialize the new pump. I believe any Ford dealership should be able to perform this task as well, just tell them you replaced your pump and it needs to be initialized.
And that's pretty much it! All brake functions that were controlled by the system now think they are functioning, but so course none are. Awd and all modes work, but no ABS intervention, no panic braking, and an unexpected bonus - one touch traction control off.
And the best thing? You can switch between your dummy pump, and real pump anytime without reprogramming them. No ABS for the winter, and full brake vectoring for the summer. If you don't want to spend money on a new pump, or programming, you could also just remove the brake lines from your existing pump and plumb them externally. This would be more suited to a dedicated rally or track car though.
Now obviously this mod is not for everyone, and I know there will be some who don't understand why anyone would do this. But for those who do appreciate a car that doesn't talk back to you, I hope this helps!