A 2016 RS on the track: The car is fast, but the flaws are real (or are they???).
The short version
This car is fast. Very fast. Rejoice and enjoy it for a moment. However, it overheats quickly. The rear diff shuts off after 5-8 hot laps. The power steering overheats after about 8-10 laps. So this is a very fast car... just not for long. EDIT: until break in is complete. With my second time to the track (and over 2K miles on the car) I have yet to be able to cause the AWD or steering to overheat. Is this a break in nanny?
If you are not interested in a long post, stop reading now. Or read on, but I warned you.
Icarus
We all know the Greek mythology of Icarus. If you don't, it is the story of a man who made wings of wax and feathers so that he could fly. It worked, and I am sure he had a good time, but in his triumphs of flight, he also got too cocky; he flew too high. He got too close to the sun, and the heat melted the wax in his wings, and he fell.
I can think of no better analogy to the focus RS and what Ford Performance did to make it happen. With the RS they created a car that flew. But in creating this ~3460lbs, 350hp monster, Ford flew too close to the sun. So close in fact that the heat on track will cook your RDU (Rear differential unit), your power steering, your tires, and your oil temps.
Another term that comes to mind is "Glass Cannon." Google defines this as "a popular term in gaming (especially online-gaming), where it refers to a character class that has remarkable offensive power, but has low defense. Urban Dictionary also defines this as: Refers to a person, weapon, or vehicle which has a high output, but a low defense, life, durability, etc."
His and hers.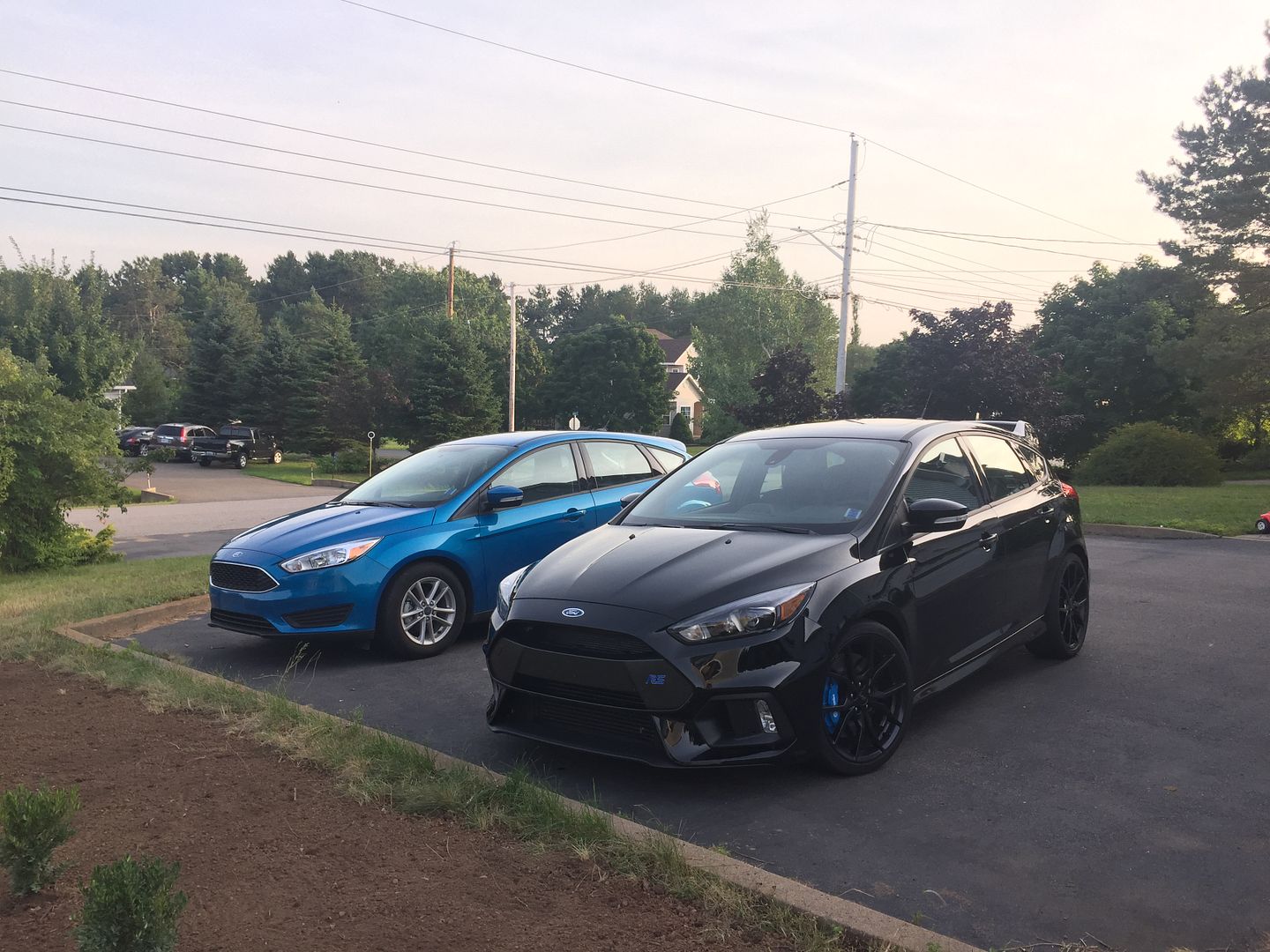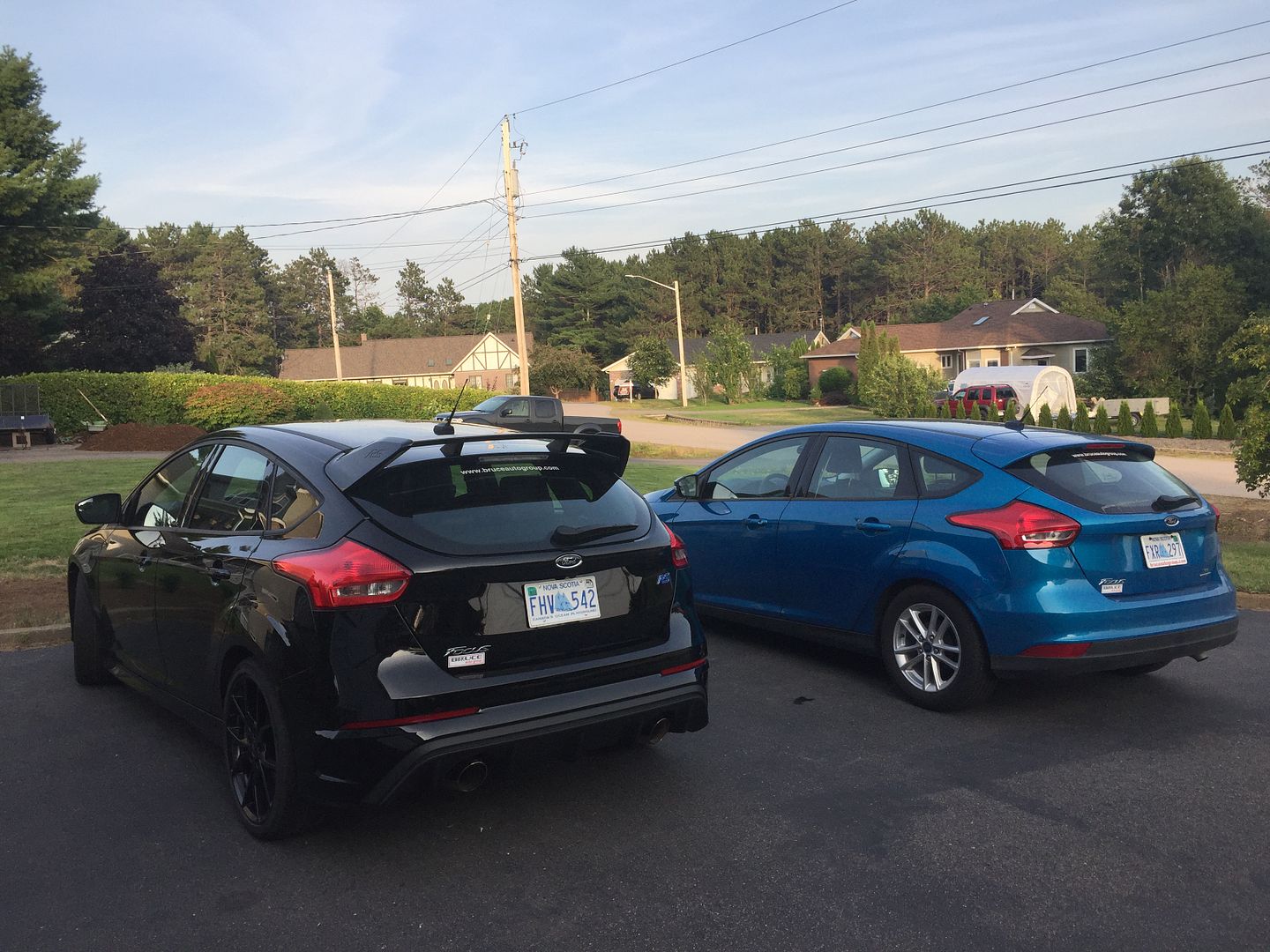 Who am I?
I am just some guy. I am no pro. But I know my way around cars, and the track. I have been doing High Performance Driving Events (HPDE) since 2012. I do about 8-10 days a year now. In the last two years I have instructed with the Porsche Club of America at local track schools. I have dipped my toes in the waters of autocross, rallycross, and the occasional go-carting with friends. I have driven a lot of different cars over the last four years at the track including a 2009 BMW 328xi (AWD), 1973 BMW 2002Tii, 2010 Mazda Speed3, 2006 BMW Z4 M coupe, 1984 911 3.2 (now a 3.4L hotrod beast, no power assist anything, and my main track weapon these days), 2002 right hand drive Peugeot 206 GTI (track prepped), and a RHD Caterham Academy car. I have also had the chance to drive a 2009 Porsche 911 c4S, 2001 Ferrari 430, and 2015 Audi RS4 on track. So I now my way around many different cars. I am more of a "slow car fast kind of guy" and I pride myself on speed through smoothness and consistency.
Which track was I driving at?
East of Ontario/Quebec Canada, on the Atlantic Coast of Canada, the only road course is Atlantic Motorsport Park. More info
here
. Is short, it is a 1.6 mile (2.5km) road course with 11 turns and quite a lot of elevation change. It is a short, highly technical track that is felt to be one of the most technical in Canada, or even North America. It is a rough track also to the standards of most, and it is volunteer run and operated. I love it.
About my 2016 Focus RS
This is my new four season daily driver. Manual, AWD, four doors (I have two young kids), hatch, 350 hp, sport cup 2 tires. It was the perfect all rounder, and in black was a bit of a sleeper... which is my style. I traded my 328 and speed3 for it (which were getting a bit long in the tooth). A local dealer had one as a pre-order, and the original buyer flaked out on delivery. It was a spontaneous purchase, and I quickly snatched it up. No waiting a year for the car. I was talking to someone who is a car buyer for dealers... a lot of preorders have flaked out apparently. A 50,000$ (Canadian dollars) Focus scares some apparently.
It had about 1200 miles on it at arrival to the track. I had the oil changed at 1000 miles. No metal flakes/dust were noted, and it was probably unneeded. At about 600 miles I felt as if it's engine woke up, and a lot more power was untapped. I removed the plastic stick on block off plate on the front intercooler. I saved it just in case (? winter use?). I removed the two kids seats in the back for track use. We only have 91 octane gas in Eastern Canada, so I used Torco Octane booster to get up to 93. 300mls (10oz) will do one tank full. 32oz cost me 40$. Tire pressures cold were set at the proper 41/38 cold initially. Remember, the 46/46 cold in the door is for MAX CAPACITY. The euro manual has it right.
The rest is stock. I used the car in track mode with the dampers on soft. When I did street mode for one session (I forgot to switch it to track mode), my lap times were no worse really. Throttle mapping changes in sport mode, but WOT feels the same, so you just lose throttle modulation/resolution on sport/track mode. The stiff dampers were just too stiff four our bumpy track. I did maybe 1/3rd a lap before disengaging it. Useless for our track, and most of the street.
Want to intimidate some sports cars? Arrive at the track, pull out two kids seats and put them on display. Then proceed to pass their 100,000$ car with your family hauling daily driver.
Cautious expectation
"Confirmation bias" is something that we humans are prone to. What does it mean? It is a bias in logic when people, often subconsciously, find information that supports their pre-conceived opinion. Ignore what you disagree with, focus on what you already agree with. You find the opinions that support your own, that support your beliefs. Ignore the rest. The internet is very good at this. So much opinion, so little fact.
When I did my typical internet research before buying this car... the reviews were 100% positive in the pro media. Slam dunk? Hold on. I am a natural skeptic. What had me worried was not so much what was said, but what was
not
said. Find me a pro article discussing lap times. Ring times? Any times? Anything head to head with the STI or Golf R on track with lap times? I can't find it either. It is all straight line stuff and subjective opinions. I am sure some of you will find a few articles, and the data will show it's head more and more now that the car is available on the street. But the silence was deafening. What was Ford hiding? Surely this car tops the rest? The reviews said the R had an antiquated AWD... and the STI had an antiquated engine. Easy win for the focus? If it is faster than the competition... why not publish it for all to see??? What is better marketing than a dominant win in a head to head on the track where objective lap times can be compared? Unless it didn't win. Or worse, it had problems on the track. The silence was deafening.
Built to run on the track for 30 minutes without systems fade. I kept telling myself that one. These tuners are feeding us overly harsh garbage to make us buy aftermarket parts... right? Hoping. Ford engineers must know what they are doing right? Yes, they do... but the Ford accountants could care less. Cars need to hit a price point. Price point over lap times?
I knew the best way to find out was to do it myself...
Morning at the track
This was my first time out with this car, so I spent the first hour or so doing four laps, checking pressures, four more laps, repeat. I did this three times, picking up pace each time to put more heat into the tires. When pressures were 44/41 or so hot, I left things alone. Our track murders the drivers front, and I just could not avoid sidewall rollover, even after adding more pressure again. Too much pressure and the tire lost grip. This was the happy medium compromise. With a near 3500lbs car on 235 tires, you just can't expect better without some serious negative camber. With four rotations, these tires will get four track days at our track. Or about 400-500$ Canadian a day on tires.
On the topic of costs, this car is a fuel pig. It gets worse mileage than my friends lightly track modified Boss 302. Mind you, it is also faster (but he is only on super sports). Two lapping sessions (I estimate about 20 minutes each) and I have used 3/4 my tank. I have learned to fill up at a quarter tank. I do not want to risk fuel starvation due to lateral loads on the fuel tank. A 12.4 (or 12.6?) gallon tank is not much. I brought three 20L cans of fuel, and needed 40L to complete the day.
Anyway, in the first half of the morning I was not pushing hard, but I was also not giving the car much true cool down time. I gave it maybe 15 minutes rest after the initial tune/test laps. I was also not video taping or timing my laps. I gave it one final run of 5-6 harder laps (I will say 8/10) and the "RDU disconnect" logo flashed at me. I was in FWD mode, so I did cool down laps and went off track. The air temp was 20oC. That is 68F.
After a proper rest, I knew the cool temps of the day would not last, and now was the best time for a fast lap. It was 23C (73.4F), so I went out in anger. Two warm up laps... and on my fourth lap (second hot lap) I did my fastest of the day... 1:19.96. After six hot laps my RDU shut down from heat.
Here is my drivers front tire after two runs in the morning. Increasing the pressures did not solve the problem... well not without sacrificing a lot of grip (speed). So I had to find a compromise.
The afternoon
I did two more sessions in the afternoon with the RDU shutting off after about 8 hot laps each time (with two warm up laps). At this point temps on track were 28-30 degrees C (82-86F), but I had proper cooldown time between sessions and took plenty of cooldown laps. I came close, but could not match the best morning times. I was driving better, and getting dead consistent times in the 1:21's at day end and comfortably so. But heat is heat, and it hurts power and tire/track temps. Had I been able to lap at 20-23C like in the morning, I bet I would be getting into the 1:18's.
Here are my tires at the end of the day. With rotation, based on experience with similar cars, I can get four track days out of this set of tires. At my rate, that is 2-2.5 sets a year. Yikes.
The good and the bad
The good is that sub 1:20 is GT4 class amateur race car speeds at our track, or spec miata (handling cars are king at out track, not power), or really fast street car speeds. My buddy that has been perfecting his lightly track modded Boss 302 for the last four years... sub 1:21 is his best time (on super sports). So beating his best time on my second session out must have hurt him a bit (and he will be reading this soon... sorry Mike, but call it incentive to invest in some soft tires.
). A buddy with a Cayman GT4, he gets 1:17's with the sport cup 2's, and 1:19' on more standard street tires. My 1984 hot rod 911, I got 1:21+ and change on a similar cool day with Trofeo R tires. None of us are pros, but we aren't chumps either. So my focus was two seconds a lap faster than my 911, and I did not feel like I was working hard (the joys of modern cars).
I had no brake issues at all, and they were great. The cooling air ducts work, and well.
The seats are great also. The alcantera type of material and side bolsters really hold you in place. Even at these speeds without a harness, I was not sliding around in my seat. No issues there.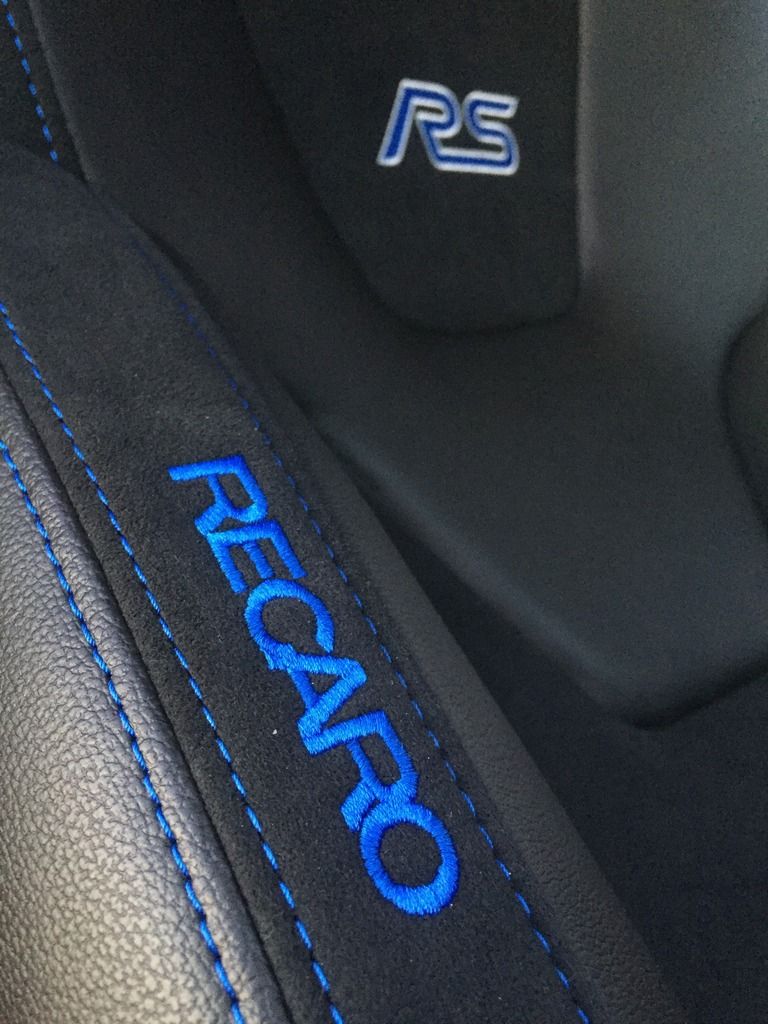 I love the shifter. No issues there. It feels solid, and high quality. No corner cutting here, which is key as you are in contact with it a lot. I do dislike the gas pedal position however. IT is too far from the brake pedal, making heel-toe a bit more difficult than I would like. You need to use a mid-foot technique. 2 or three times in the day I went to blip the throttle and caught air as my foot was out of position. My speed3 had the same problem. My BMW and Porsche had it right and are the gold standard.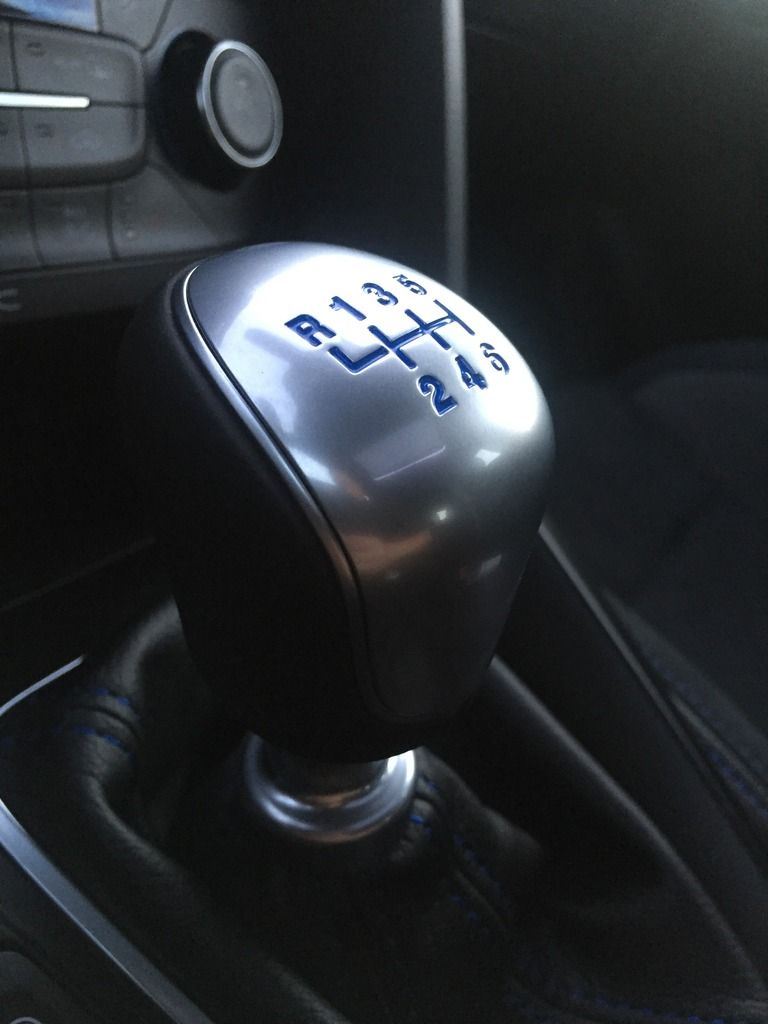 The bad is that my oil temps liked to get up to 3/4. Water temps stayed at 50% however. The diff, would deactivate after 6-8 hot laps (6, 8, 8 to be exact for my timed sessions) so my oil temps never had the chance to get hotter as I would begin cool-down laps at that point. I was pushing 8-9/10. Maybe taking 8 of 11 corners near the edge. On one of my longer sessions before the diff deactivated on me, the power steering warning flashed due to it overheating. No big deal if assistance was reduced. My 911 does not have power steering so I am used to manhandling a car. I honestly felt no difference with the power assist steering reduced. It still felt fine to me.
So Ford said the car was built to do 30 minutes on the track without anything overheating or losing performance. Well... I give it a generous fifteen minutes at Atlantic Motorsports Park (AMP) if you include warm up and cool down laps. A little over 10 minutes if you count only hot laps. And we are looking at 20-30C (68-86F) temps. In defense of Ford, I know my way around the track, and AMP is very hard on tires, brakes, and differentials. So although a tight handling track favored the agility that it's trick AWD provides, it also overheats it in short order.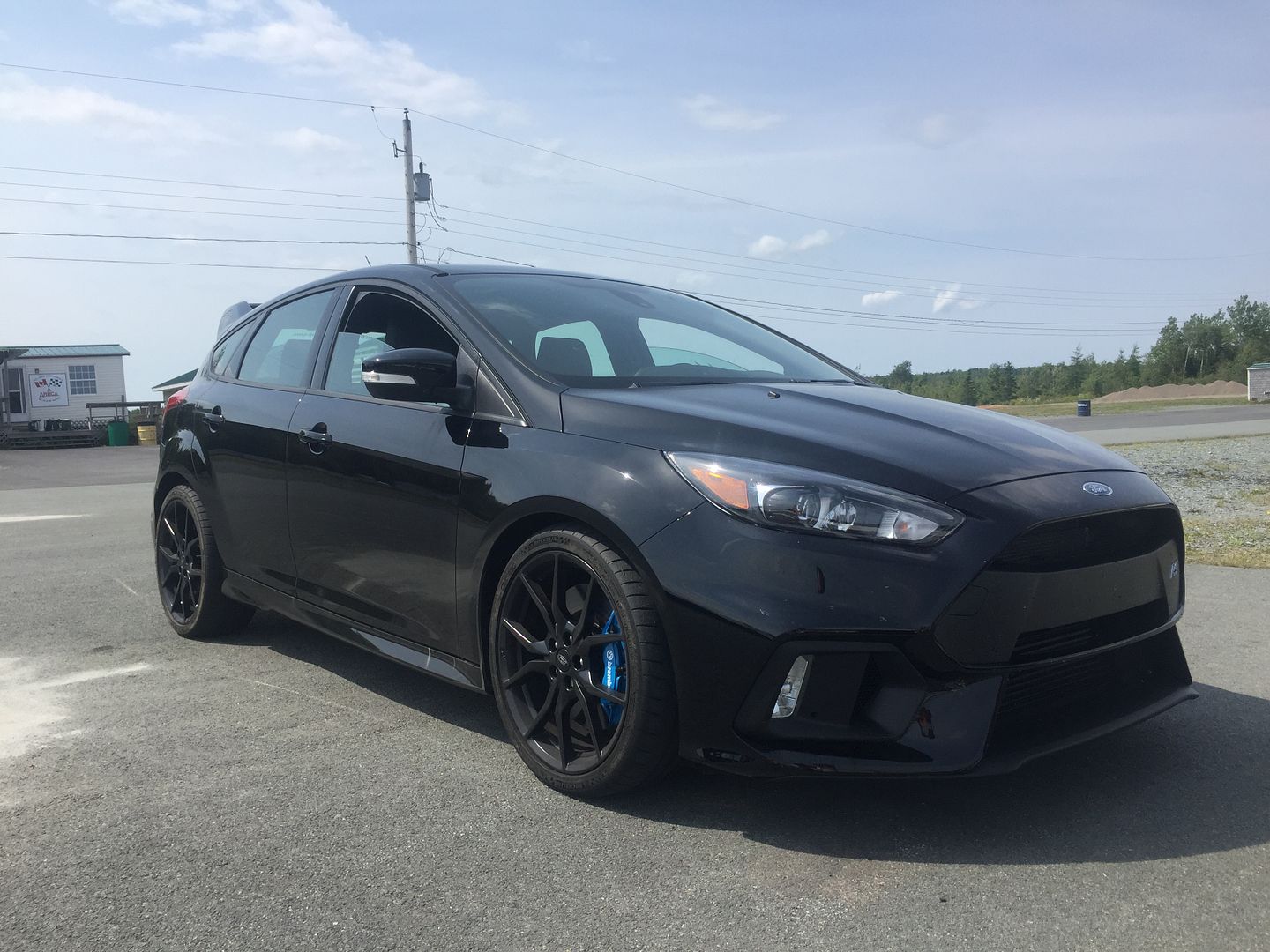 Handling
So how does the car handle in the corners? Well, the first thing to remember is that the Sport Cup 2's have immense grip. If you are not pushing them to the point of making some noise, you are not cornering fast enough. All cars feel pretty neutral and balanced when they are not being pushed to the limit. When journalists comment that a car "understeers" or "oversteers" they are (should be) referring to how it behaves at the limit of tire grip. If your car is not showing it's handling flaws, you just are not driving fast enough.
On the street the RS is very agile, very neutral, and just glides through corners. You can feel the rear diff transferring power to help you around corners. It works as intended, and feels great. But on the street you are no where near the limits of the sport Cup 2's. And if you are, you deserve to be thrown in jail, and I hope you don't kill yourself, or anyone else. This car is too capable to be driving at the limit on the road. For most people, this will be far more car than they will ever need, or be able to handle (in the corners).
On the track... the car is easy to drive (everything is easy compared to my 30 year old hot rod 911). It is nice to drive a car that is working for you, not against you (my 911, it tries to kill me multiple times a lap. It scares me, so I am probably leaving time on the table as a result). It keeps you safe, and the odd unexpected boost aside (the computer suddenly deciding you are allowed overboost again? A bad thing in high speed turns when you are hard on the throttle), is easy to drive fast. I will give props to Michelin in designing the Sport cup 2. The harder inner compound that gives it its longer life (compared to the original sport cup), also makes lots of noise when on the edge of adhesion. So keeping the car on the knife edge of traction in the corners is pretty easy.
But, and this is a big but, the car still feels like it has a 60:40 weight distribution (and it does!!!). You can't hide form that when you are at the limit, no matter how trick the differential. Most corners feel the same (plus or minus), and it goes something like this: Understeer in. I then lift slightly to help rotate the car to the apex, and progressive throttle. By the apex I am on the power and the differential is pulling me around the corner. It does work as advertised. The understeer stops, and throttle/diff bends the car around the apex and into the desired line for corner exit. For the diff to work, you can't be on the edge of (losing) grip. That is why the really fast drivers say it feels like a FWD car all the time. 60:40 does that in corners. To make the diff do it's job, you need to slow down. Physics wins. This is not a 50:50 mid engined car, and a fancy drive train will not fix the weight distribution.
That being said, corner depending, too much throttle and you can still understeer on turn exit... but not nearly as bad a with a high powered FWD car (my old mazda speed3). I can get on the power early, and as long as you do not overdo it with your right foot, there will be no understeer. Sometimes after the apex the car can even feel RWD with power oversteer... presumably when the rear diff wants to give more power to the outside rear tire than I would like. But up until the apex, or just before it, the car feels like it has a 60:40 weight balance, and it is all understeer.
Note: I do not left foot break. I could, but on our track it would cook brakes, as it is hard enough on brakes without left foot braking. Again the brakes were great. No need for vented rear rotors.
So What needs fixing on the RS?
Again, this is a fast car. If you took it to your first HPDE I am sure you would have no heating issues. For more veteran drivers pushing the car closer to it's limits... this is a frustrating car. Fast, very fast, but not for long... at least on our tight, highly technical handling track. So this is a sprint car, not an endurance car. Based on my times, and the time it took to get the rear diff to shut down... I say it is an excellent 6/10 car (maybe 7/10) and it could probably do 30 minutes on the track at those relaxing speeds. If I was doing 1:24-1:25's I bet I would be fine. Of note, and local ST (also black) does 1:25's when he pushes (on super sports), but he says his brakes get soft after 5-6 hot laps. No street car is perfect.
First, this car needs a differential cooler. With that I could do a 30 min session without going into FWD mode I am sure. After that would be the power steering overheating as if follows the RDU within a couple of laps on our track. So that needs a cooler also. My oil temps never passed 3/4, but with the diff cooler allowing me to keep pace longer, the oil would get hot and probably go redline after 20 or so minutes at the rate I was going. So I would need an oil cooler. That being said, the drivers front tire was being murdered... so at the same time as the diff cooler, I would want one more degree of negative camber in the front. Hell, I would settle for 0.5 more degrees (for -2.5 or -2 respective). Sadly that will mean coilovers in a brand new car as there is no space to use camber plates in our cars. Yuck. A local STI with simple camber plates and comparable tires is doing 1:17's (2 seconds faster). Not sure what heat issues, if any he is having.
The good news on coilovers is that I could get away with fronts only if they were matched to oem specs. I would just want something identical in spring rate and dampening to stock. I would not miss the adjustable dampers because the stiff setting is just too stiff for most roads, or our local track.
Finally, I want a gas pedal that is both longer (downwards), and positioned closer to the brake. I want an easier heel-toe.
So... front coil overs, more negative front camber, larger gas pedal, oil cooler, diff cooler, steering rack cooler. A "nice to have" mod would be a lithium ion battery and a carbon fiber hoot to try and reduce some of that mass up front. Here is to hoping Ford Performance makes a "track pack" to make this car perform as intended. I all I need is 30 minutes of fade free driving. :topsy_turvy:
I took off the transit van intercooler block-off plate.
Tuning potential?
I think there is limited potential to tune this car further. I look it as a car that has all the aftermarket tuning done for us. I don't think Ford left much on the table. I am sure we can get more boost, more power, bypass the RDU shutoff... and make the car faster... but for a shorter period of time. Imagine overheating in 3-5 laps, instead of 5-8. Or just grenading the diff and engine. Is that really faster? Maybe it is faster if all you do is "hard park." This car is plenty fast out of the box. What it needs from the aftermarket, or Ford Performance, is the ability to maintain it's own very impressive pace for longer.
Final impressions
I am both impressed and disappointed with the RS. Sub 1:20 at our track is impressive for a street car. You are getting into big bucks to get a car that fast. But when a STI can pop on some camber plates and get sub 1:18's... well you can figure that out. Now, camber plates, coilovers, and a ton of coolers, and this will be a weapon.
Until then this feels like Ford Performance made a "tuner car." What is a tuner car? A tuner car is chipping/boosting a fast, balanced, reliable car. So suddenly it has more power than intended from the factory. Now the cooler is not large enough, the brakes are not large enough, the differential is overwhelmed, the suspension can't keep up, etc. Your balanced 250hp car is now overwhelmed with 350hp. It is fast, but only in short bursts... otherwise things overheat... and you have a really slow car.
So to me, this car is Icarus. It really does fly. Believe the hype. Just don't expect to fly close to the sun for long.
Time for ford to release a "track pack." Maybe then it will last on the track for 30 minutes as advertised.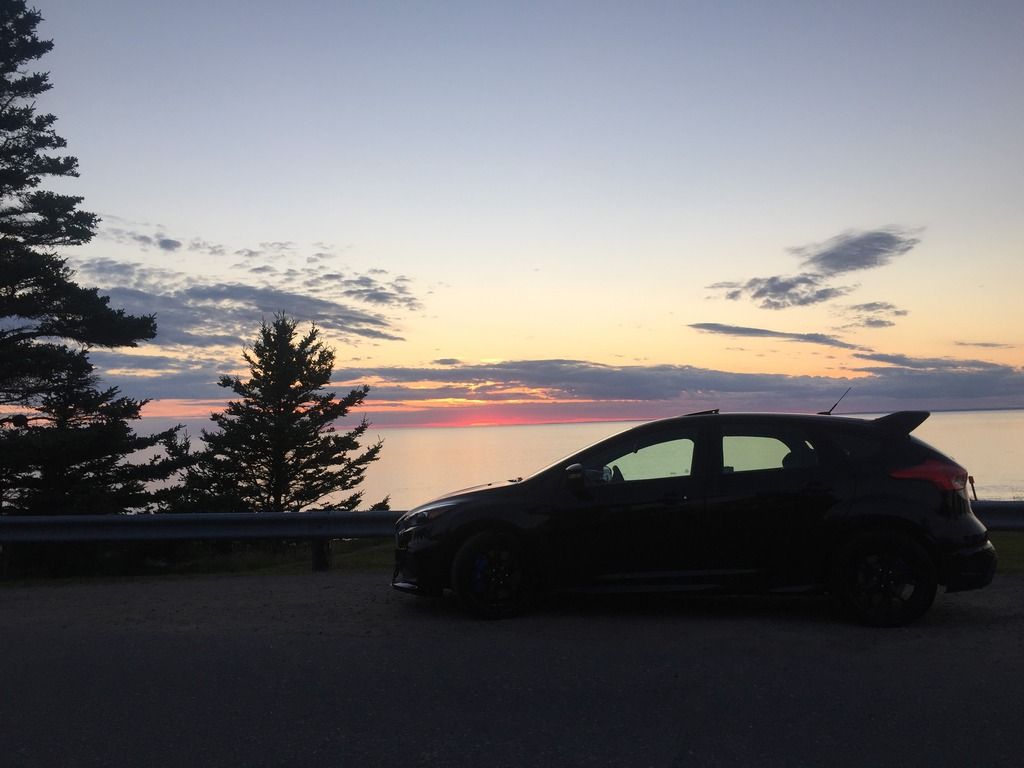 I will post some on track video in the next few days so that others can point out everything I am doing wrong to make the car overheat.
Update: on track video
Here is one of my faster laps (I have yet to verify them all) in the morning when the track temps were cooler at 23oC. It was only my second session of the day (and in the car ever) so with the right conditions, I am sure I can cut more time off. I would call this 8/10 lapping.
I should also update an earlier error on comparable 2015 STI times. A guy with a 2015 STI with camber bolts (-2.4 front camber) and r-comp tires got a best of 1:19.7. So near even to my 1:19.96. But, camber saved his car from lots of corner entry understeer, and that is huge on our track. I suspect that I have more time to cut off, and his stock time would be an easy second slower. However, he has yet to experience any kind of heat issue in his STI. So in my mind the RS is faster, but just not as good at heat management.
I was wrong
See my comments in post #109 (page 11). I won't make a final judgement yet, but I think I jumped to conclusions. I am curious what others are experiencing.