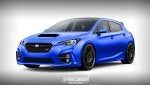 ​
by Mihnea Radu, 3rd November 2015
Despite Subaru's best efforts, most people see the Impreza and STI models as one and the same thing. A couple of years ago, Subaru showed a stunning concept car that disappointedly transformed into a normal-looking Impreza with a big spoiler and blue paint.
The current generation compact car isn't going to yield an STI hatchback. That's mainly because America and Australia are the biggest markets, and they don't care about sloped trunks.
However, the next-gen model is an entirely different story. Honda is going to be the first Japanese company to re-bridge the global performance market, followed by Subaru. By 2017, the Civic Type R hatch should be sold in America while sharing its front end design with the sedan.
The testing phase for the all-new Impreza began a few months ago and culminated at the 2015 Tokyo Motor Show, where FHI designers revealed their preview concept.
That served as the basis for this rendering, which shows the STI 5-door… of the future. It could take quite a few years before this car is ready, and in the meantime, the Germans could completely change the market.
Where the Evo used to dominate games of top output trumps, the A45 AMG is now king of the hill with its 381 PS. What's more, the next-gen model could deliver as much as 400 hp from the same 2 liters of displacement.
2015/2016 WRX STI models sold in America pack a carry-over 2.5-liter boxer turbo engine. The EJ257 is a robust unit that easily deals with tuning exercises. However, we suspect it will be replaced by the latest 2-liter unit.
From day one, 2015 STI models sold in Japan were equipped with this type of slightly downsized powertrain. It produces the same amount of power as the 2.5L and slightly more torque as standard, but the S207 special edition that's just been revealed raises the bar to 328 PS and 431 Nm (318 lb-ft).
2018 Subaru Impreza WRX STI Rendered as a Hatchback - autoevolution